Published On November 28, 2017 » 1773 Views»
Features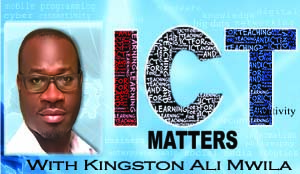 MOBILE phones and the Internet are now major channels for education, creativity, entertainment and self-expression for children.
Technology has removed social barriers, posing challenges for the traditional structure of child protection.
This column hopes that technology is here to build and improve the lives of children.
The column has discussed various topics to raise awareness so that children not abuse technology and neither should they be left to be abused.
Sharing the right of children will not only inform and educate them, but they will make informed choices that will benefit them.
The International Telecommunication Union (ITU) launched the Child Online Protection (COP) Initiative in November, 2008 to ensure a safe and secure online experience for children everywhere.
In line with ITU COP Strategy, COP Zambia aims to address COP through the proposed five pillars relating to legal, technical, organisational issues as well as capacity building and international cooperation.
The Convention on the Rights of the Child – Article 13 gives children '…freedom to seek, receive and impart information and ideas of all kinds…
Article 31 gives children '…the right to engage in play and recreational activities appropriate to the age of the child and to participate freely in cultural life and the arts.'
Article 16 says children should '…have access to education and are supported in the use of basic knowledge of child health and nutrition…'
Article 34 calls on adults to '…protect the child from all forms of sexual exploitation and sexual abuse.'
Children can use mobile technology for learning, information, freedom of expression: they are part of a new generation of digital citizens.
With the introduction of ICTs in the education syllabus and the umbiquity of technology, children can learn and do a lot to transform their lives within the framework of their rights.
It is always observed that using the Internet is fun.
Enjoy it most by keeping yourself safe.
This is the message that needs to be shared with children as they interact.
You can do a lot of great things on the Internet.
You can play games, chat with your friends, meet new friends and find a lot of useful information.
You have the right to enjoy and explore all that the digital world has to offer!
But you also have to be aware that you can find some unpleasant things on the Internet, such as images and stories that may confuse or even frighten you.
Your friends and trusted adults are not the only people within this digital world.
Unfortunately, the Internet is also used by people who are not so nice or who might even want to harm, harass or bully you or other people.
While using the Internet, you need to be aware of certain basic rules to be able to safeguard yourself and others.
You have the right to use the Internet safely and to set your own limits.
Be smart, responsible and safe online, as well as in real life!
Information Technology (IT) should not always be seen from the negative side as it will always harm children.
It requires support from various stakeholders to send the right signal.
Digital citizens includes the combination of parents and guardians, schools and teachers, industry, NGOs and government by the formation of ICT clubs in schools, connecting learning institutions, established computer labs with Internet connectivity, promoting e-learning in schools, train teachers in cyber-security and Child Online Protection(COP), partnering with churches and PTAs, including module on COP in training for police recruits.
When these institutions exhibit a strong approach which supports the enjoyment of children through various ways mentioned in this subject, we shall have a safe online platform.
Since the education system has made children to be exposed to different technologies, it is required that possibly, there are set school rules and polices – e-safety – for the pupils.
The safety policies may not only be done by the schools but also the service provides who are offering services to schools, such as set acceptable use policy – age appropriate, appoint e-safety coordinator, filtering/monitoring product, e-safety education, single point of contact in school, collecting e-safety incidents, reporting of cases to relevant authorities
In the next presentation, this column shall explore more children and mobility technology to discuss benefits, ICTs and children's rights, promoting opportunities, education, protection from violence and exploitation, information and freedom of expression.
Service providers such as mobile network operators, play a very important role in enabling the child to enjoy Internet with minimal risks to be harassed if their content is provided with parental guidance just like it is done with digital satellite television.
Parents and other stakeholders must be engaged to mitigate risks like inappropriate content, reputational damage, inappropriate behaviour, privacy concerns, sexual exploitation and violence, Internet technology risks, content risks – illegal activities, harmful content, harmful advise, contact risks – cyberbullying, online harassment, content sharing, online dating; commercial related risks – online marketing, age restricted products, online scams; information privacy and security risks – revelation of personal data, identity theft, and sharing passwords.
It would be fair to conclude by borrowing the statement of UNICEF: Voices of Youth, "A space where children and young people can have their say on issues that matter to them, and where learning, sharing, inspiration and cross-cultural exchange are actively encouraged; "An education movement where young people learn to create apps that change the world."
A world where technology allows children to be heard, one by one, and through their voices, shape the world and realise their rights.
Resource: ZICTA, UNICEF, GSMA Capacity Building.
Response from IzenziKabwe, Scotland:
I have actually been following your articles in the papers.
You are doing well.
There is a friend there in Zambia. He always sends me the papers.
And your articles are always a priority whenever I am reading a Tuesday edition of Times of Zambia.
You know, technology has a great impact on our society and it should be used with the proper knowledge it requires though some sections in our society usually abuse it.
I am not a prophet and I am not related to one but this you will remember at some point, the passion and great work you are doing will stand the test of time and you will be a great figure in the world soon.
Keep up with the same spirit.
The author is an ICT consultant, forensic investigator, CFIP, PDES, BSc IT, DIT, ADip.PM, ITIL. For comments, suggestion, questions email kingstonmwila@gmail.com, WhatsApp +260977689574, +260955689574, Like the Facebook page: www.facebook.com/ictmatterswith kingstonalimwila.