Published On January 27, 2018 » 2560 Views»
Features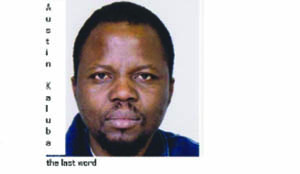 In the days following a report that United States (US) President Donald Trump disparaged immigration from "s***hole countries" in an Oval Office meeting with lawmakers, the White House settled on a bizarre response.
Publicly, they denied that Trump ever said "s***hole countries."
And then privately, they explained those hard-to-believe denials by claiming he said "s***house countries" instead.
I wonder why Trump's aides denied the president's statement since I feel the wisest thing for them to do to was to admit he mouthed those words since they will lead to debate, honest debate on why some countries qualify to be called 'shithole countries.'
For the black world who feels insulted by Trump's comment, isn't this the right time to honestly debate the accusation.
We all know the cruel truth about Africa being the most insulted continent and rightly so since all the misery and suffering has largely to do with bad leadership.
This has even compelled some people, including many Africans themselves, to think the unthinkable: Africa should probably be recolonized to end its misery.
This proponents of recolonisation have argued that let Europeans, our former colonial masters, come back and rule us again and end all these civil wars and corruption, revive the economy, maintain law and order, and develop Africa.
Note that the call for recolonisation have  also been made by sensible Africans, some of them educated in European universities, all of whom cannot be easily dismissed as educated fools, brainwashed and whitewashed by their former colonial masters.
Let's face the cruel truth; theirs is a desperate plea for help, shared by their brethren across the continent, to save Africa before it descends into the abyss.
Protests by Africans have tacitly been expressed by immigrants who get on rickety boats to go up north where things are good here on earth.
Instead of condemning those who die on sea, let us examine what they are running away from.
Note that it is not only ordinary Africans who crave to go up north since even educated Africans choose to remain abroad when they finish their studies instead of coming back home to Africa.
In short, the West deserves credit for rescuing most of Africa's gifted writers, artists and intellectuals from the despair, devastation and abuse that was previously their lot in Africa.
We would not have a Nobel Laureate in Wole Soyinka today if he had been allowed  to be broken by military goons.
Chinua Achebe would have died earlier in record time if he  had remained in Nigeria instead of going to the United States of America the latter which gave him access to medical and material resources.
Trump is being used by good spiritual forces that want Africa and Haiti to debate their predicament for a second liberation.
I say this knowing that since independence in the sixties, Africa has performed badly in most areas largely because of bad leadership and bad policies.
Yet, an entire generation later, they have little to show for all those years they have ruled themselves. No one expects a country to develop in 30 or 40 years.
Again no one expects it to do nothing either. There is no excuse for the kind of economic retardation that has taken place in most countries across Africa since independence.
Let's face it; something is wrong, terribly wrong.
But unlike in the past when it was fashionable for many Africans to blame colonialism and imperialism for almost all the problems our countries faced after we won independence, an increasing number of them today, especially those of the younger generation, insist on accountability within Africa.
To these millions, independence has remained an abstract ideal without any concrete benefits in their lives, as they remain trapped in poverty and continue to be ravaged by disease, while billions of dollars in foreign aid, and taxes paid by the toiling masses, are being stolen and squandered by unscrupulous politicians and bureaucrats, together with their cronies and mistresses.
Many older people also remember that during colonial rule, in spite of its curtailed freedom, they were allowed a degree of freedom they don't enjoy today in most countries even in this era of democratisation that was introduced across Africa in the early nineties following the collapse of communism and the end of the Cold War.
So as a disappointed African I feel Trump's statement is a wakeup call for analytical debate on why we are in all this shit (pardon my uncouth language).
I will never join my colleagues who are incensed by Trump's timely and honest description of my continent.
I say this knowing that across Africa there has been a diplomatic fury over Trump's statement. Botswana's government called Trump's comment "reprehensible and racist" and said the US ambassador had been summoned to clarify whether the nation was regarded as a "shithole" country after years of cordial relations. Uganda's state minister for international relations, Henry Okello Oryem, called the remarks "unfortunate and regrettable".
The African Union said it was alarmed by Trump's language. "Given the historical reality of how many Africans arrived in the United States as slaves, this statement flies in the face of all accepted behaviour and practice," its spokeswoman Ebba Kalondo told Associated Press.
Jessie Duarte, the deputy secretary general of South Africa's ruling ANC, said: "Ours is not a s***hole country; neither is Haiti or any other country in distress. It's not as if the United States doesn't have problems. There is unemployment in the US, there are people who don't have healthcare services."
The leader of South Africa's main opposition party, Mmusi Maimane, described the comments as "abhorrent".
Whatever critics of Trump's statement say, I feel the accusation has a lot of truth in it.