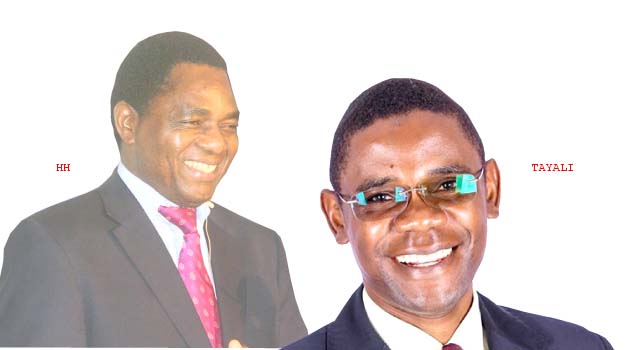 By PERPETUAL SICHIKWENKWE –
THE matter in which Chilufya Tayali is facing one count of defamation against United Party for National Development (UPND) leader, Hakainde Hichilema was yesterday adjourned to next year for the parties to explore reconciliation.
Lusaka Magistrate, Felix Kaoma adjourned the case to January 18 next year to enable the two parties to explore settlement of the matter outside court.
In this case, Tayali, who is Equity and Economic Party leader, is alleged to have accused Mr Hichilema of being the main sponsor of the University of Zambia riot which resulted in the death of a fourth year student who suffocated.
But when the matter came up yesterday, Mr Hichilema's lawyers, Laston Mwanabo informed the court that the matter was scheduled for commencement of trial and the accused was before court.
Mr Mwanabo, however, informed the court that parties were not in a position to proceed with trial despite the matter being criminal in nature.
He said Mr Hichilema and Tayali were exploring excuria (out of court) resolution of the issues that led to the complaint against the accused and requested for an adjournment.
One of Tayali's lawyers Osborne Ngoma said his client had no objection to Mr Hichilema'sapplication as that was his wish to settle the matter out of court.
Magistrate Kaoma after considering Section 8 of the Penal Code which allows the trial court in minor offences of private nature to promote reconciliation, adjourned the case to January 18, 2019 for a status report on the possible reconciliation.
Tayali will, however, appear for mention on December 28 this year.