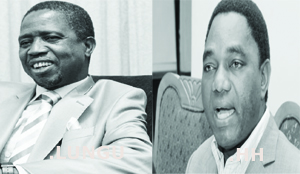 By CHUSA SICHONE –
THE fresh proposal for President Edgar Lungu and United Party for National Development (UPND) leader Hakainde Hichilema to have dialogue has continued receiving support from stakeholders.
The latest being the Southern African Centre for the Constructive Resolution of Disputes (SACCORD), the Governance, Elections, Advocacy, Research Services (GEARS) Initiative Zambia and a political analyst.
The two organisations felt the meeting was long overdue and wanted to see the pronouncement actualised instead of mere proposals as had been the case over the years.
SACCORD executive director Boniface Chembe said his organisation had always been a proponent of dialogue especially if it was for the betterment of Zambia.