Published On November 16, 2020 » 1265 Views»
Features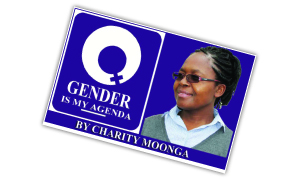 It is a beautiful July night in Kabwe, one of Zambia's average towns, but Beauty Muwela can hardly sleep.
She has spent the entire day packing her bags to make sure that she does not forget anything when she flies out in a few hours to go and join her spouse in Sydney, Australia.
As a person leaving the country, Beauty is the envy of most of the people in her neighbourhood and the realization that not all is rosy for migrants like her hits her sooner than later when she arrives in Sydney.
Beauty is not alone as hundreds of women in Africa and all over the world pack their bags, leaving everything behind for new love or to follow their spouses overseas where their jobs have taken them.
For women who migrate in search of love, there are many reasons that they give for that and one of the reasons is that marrying a foreigner will uplift them from being trapped in a low social status.
Beauty explains that her husband migrated to Australia because the job he had in Zambia was low paying and the two of them could no longer afford to take care of their three children.
"For me, I realized that being married to a Zambian man was not going to help me to live a better life that I have always wished for and so I decided to look elsewhere," a Zambian woman only known as Monde says.
With the increase in the use of social media in Zambia, some women reach out to foreign men through social media, date them after which they get married.
For many of these women who take these life-changing decisions and migrate to foreign countries for love, life out there is not as envious as the people who have remained behind imagine.
To begin with, the men who marry these women are usually between 10 to 20 years older than them, and about 50 years and older.
Other women say they migrate in search of economic emancipation.
But that does not take away the pain of being a migrant.
One woman explains how she cries now and then for the family, childhood and youth that she had to leave behind to pursue a completely new life.
She explains that migration of any form involves loss.
"Even when you are privileged like me, migrants, wherever they move, leave part of themselves behind. Efforts to reclaim that which has been lost results in something more than a certain kind of longing which makes them feel exiled," she says.
She explains that the pain does not end there but continues throughout life as one misses funerals, and all manner of celebrations in one's family," she says.
It is necessary to note that some of the migrants' departure is caused by poverty, war or environmental disaster and therefore, people may have no privilege to choose where to go and because of that, their experiences are usually bad.
For the women who migrate in search of new love, their lives are transformed, especially those who marry older foreign men.
While such women gain security and financial independence, the issue of their partner's age usually becomes a source of concern as such a spouse begins to get ill.
According to research, while many of these women see this as a good strategy to gain financial independence, many of them end up suffering hidden psychological problems as a result of living this 'unintended transnationalism' over the long-term.
Many women who follow "new" love in foreign countries are usually exploited and Gender Based Violence (GBV) is the order of the day for them.
But they do not report these cases to authorities for fear of losing their status.
Research also states that many of these women are referred to as prostitutes who failed to find love in their own countries.
Some research further explains that many of these marriages break down because of husbands' infidelity, abuse, alcoholism, imprisonment for drug-pushing, discrimination by his family, health issues and gambling debts.
"I have had to endure all these problems because as long as I live with him, I am at least sure that I will continue to survive monthly," one woman said.
According to research, a woman becomes especially dependent if she stops working to live entirely from her partner's support.
Women with jobs that have an official public status, like school teachers, are less likely to do this.
One woman recounts how her partner's ageing and ill health motivated him to ask her to travel to his country for marriage, and she recounts their ensuing negotiations of a house, and marriage, in exchange for care-provision.
This is because the man did not want to be moved into an elderly people's home.
"He said he would put his house under my name for me to take care of him in return,"she said.
"My life has improved because I have a foreign husband. My family was in deep trouble before. But marrying this man has turned by life around. I am living my dream. Without him, I would not be having this life,"she says.
Studies have also shown that some men keep their wives in the dark to maintain her dependency.
Others produce legal arrangements to exert control over the woman's access to assets in exchange for fidelity.
For example, one woman was required to sign a document forfeiting capital, if she left her husband.
Much depends on the specific negotiated agreement at the time of marriage, which is often explicit in the amount of financial and material support, and access to rights and capital, a woman will receive.
One woman told researchers that for 16–17 years of living with her partner, she was not allowed to touch his wallet or his ATM card.
Further research explains that the age factor in the foreign men makes them so insecure as time goes by and one 22 years younger than her 72 years old husband told researchers that she uses his failing sex drive to demand for money from him so that she does not abandon him.
He gives her the money but is usually angry, depressed and violent.
Many of these migrant women in search of love are usually treated like slaves and told to take off the men's shoes or trim their nails.
"For me, I cannot remember a day that I did not cry while being married to my husband. I used to cry every day and I missed being happy with my family back home," one woman said.
Other women who have migrated as a result of gender migration complain that when they return home, they do not have people to talk to as it is a different society.
There is also usually a sense of loss, primarily cultural.
From the above it is evident that the participation of women in migration has raised both prospects and pains.
The fact that women are migrating on their own rather than as part of family migration seems to suggest greater freedom and choice.
However, their concentration in vulnerable sectors has generated much debate on how migration can have a positive impact on women's lives.
Both domestic work and entertainment where many women work are not covered by labour laws in many countries, hence women's working and living conditions are very much dependent on the "charity" of their employers.
In the case of entertainers, the dangers include being pushed into prostitution, violence, and run-ins with criminal elements.
From the time female migration became visible, protection issues raised have been the same issues that migrants and migrant advocates fight for today: minimum wages, adherence to basic protection standards, and protection from brokers and agents in source countries who often charge migrants excessive fees.
Unlike male migration, which is subject to variable economic conditions, female migration has proven not only to be stable but also resilient in the face of economic changes.
Countries of origin and countries of destination have different perspectives and responses to this durable phenomenon.
The volume of remittances and the employment generated by labour migration weaken the resolve of countries of origin to demand better wage scales and labour rights, which would lessen their workers' competitiveness.
Despite their contributions to their host countries, women migrants are not generally assured of basic protection.
These women cannot easily change employers even if their conditions are far from satisfactory.
They also cannot move to a different job outside of domestic work.
In some countries, there is a perception that migrant women like childcare workers could have a negative cultural impact on their wards.
This includes the concern that children could become closer to their nannies than they are to their own parents.
At best, women migrants receive a poor welcome.
Sociologist Rhacel Parreñas has observed that, as "servants of globalisation," women migrants, in turn, transfer their caregiving responsibilities to other female family members or other less-privileged women in the countries of origin.
In the process, while migrant women contribute to making family life more comfortable and easier for their employers, they are separated from their own families, who have to fend for themselves.
Researchers have established that many women migrants are devastated for leaving their loved ones behind.
They also suffer from guilty all the time and feel really lonely, failing to fit in their societies and losing their friends.
There have also been increasing incidences of unauthorized migration and trafficking in people, especially women and children where some businesses channel women into roles as sex workers, brides, or forced labour.
One change will include viewing migrants not just as workers but also as human beings. Another will be valuing reproductive work or care work as very important to human and social life, and as work that should be shared by women and men alike.
Comments: moongacharity10@gmail.com.