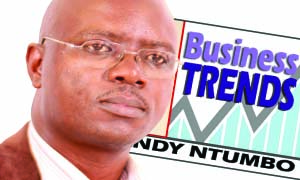 GREEN financing for Bankable Nature Solutions (BNS) is taking a prominent role in the global and Zambia's local business and economic development.
Earlier this month, I was privileged to participate in the green financing workshop programme hosted by the World Wide Fund for Nature (WWF) and the Capital Markets Association of Zambia (CMAZ) that took place at Pamodzi Hotel in Lusaka.
The theme of the workshop was dubbed "Promotion and better understanding of green financing instruments".
Thanks to the Securities and Exchange Commission (SEC) and WWF country director, Nachilala Nkombo, for sharing information on recent developments on green financing initiatives in the Zambian economy.
What's the fuss about green financing and BNS?
Is it something that is being done just because it's in fashion and everybody else in the world is doing it?
According to Ms Nkombo, a BNS is an initiative that mobilises private sector investment into sustainable development projects.
She further notes that such an initiative provides a win-win outcome to build more climate-resilient ecosystems for people, nature and economies, while simultaneously providing a financially viable project that is able to be scaled up and replicated.
Ironically, agricultural, mining and energy generation activities, and indeed other industrial and social activities have over the years lead to and continue to lead to deforestation, environmental pollution and over-exploitation of natural resources.
Sadly, this unsustainable use of natural resources inevitably results in severe climate change effects with Zambia's experience in the 2015/16 and 2018/19 seasons being a vivid example.
Imagine, for once, how the Zambian Government even went to the extent of contemplating digging a canal from the Congo basin to Kalene hills to beef up the water levels of the Kariba dam!
That was a crisis of its own kind, wasn't it?
Indeed, such crude memories should remind each and every Zambian the need to conserve nature and carry out climate-smart socio economic development.
Is there a classical high-profile example of a BNS project in Zambia? How does it work out? What is the socio-economic and ecosystem impact of this project?
During the above green financing workshop Kaleya Smallholders Company Limited (KASCOL) made a thrilling presentation on their plans to roll out a BNS.
Remarkably, KASCOL is undertaking to implement flood irrigation and convert to sub-surface drip irrigation.
Thanks to the Dutch Fund for Climate and Development (DFCD) which has bankrolled a €180,000 grant to enhance irrigation climate-smart initiative.
During the workshop, I asked Ms Nkombo the benefits of WWF working with KASCOL.
Thankfully, she says "Given the water pressures in the Kafue flats, WWF Zambia has been working closely with KASCOL to explore ways in which the business can reduce over-use of the water body resource through sustainable agriculture and water conservation practices,"
She further noted that the Kafue flats is of major, industrial, ecological and socio-economic significance for Zambia as it directly support the livelihoods of more than 2 million people.
The Kafue River also supports and sustains vital environmental systems like wetlands, national parks and bird sanctuaries.
Further, the WWF national corporate leader notes the over-abstraction of water and severe droughts that have characterised the country particularly in the 2015/16 and 2018/19 agricultural rain seasons being one of the most severe in the recent years.
Following on, the Kafue Flats generate an estimated 50 per cent of the country's national hydroelectricity supply through the Kafue Gorge Dam and Itezhi-Tezhi Dam.
Think of it, the area is source of 44 per cent of water used in Lusaka besides being home to the country's most productive fisheries and it has the highest concentration of cattle ranches amounting to an estimated 290,000 cattle particularly in the dry season.
This provides a water-tight case for the implementation of KASCOL drip irrigation project doesn't it?
For once, think of the impact on the Kafue river-water body of the current method of massive use of water using the flood irrigation method.
Essentially, KASCOL was established in 1980 as a vehicle for the economic and social empowerment of local smallholder farmers in Mazabuka district.
It has more than 2,500 hectares of cultivated land and 160 smallholder farmers managing approximately 1,275 hectares of sugarcane, 150 hectares of rotational barley and soya beans and supports a community of approximately 4,000 residents on the estate.
Additionally, the company has over the years aligned its strategies with the Zambia's 7th National Development Plan (NDP7); development outcome number one; "To create a diversified and export-oriented agriculture sector."
KASCOL is a participating member of the WWF initiative in Water, Climate and Landscape Management, the first water stewardship driven multi-stakeholder platform called the Kafue Flats Joint Action Group (KFJAG).
In turn the company's has deployed an improving production and productivity strategy through productivity-enhancing technology development, irrigation development and agriculture input supply management.
The company follows sustainable farming practice and uses environmental protection guidelines including systems that are compliance with the Zambia Environmental Management Agency (ZEMA) regulatory guidelines.
These include procedures and guidelines on engagement with land, water and natural surroundings such as killing of wildlife on the estate is prohibited, enhanced protection of soil health and no careless burning.
For comments e-mail: ntumbograndy@yahoo.com Mobile +260977403113+260955403113
The author is the Managing Consultant at G. N Grant Business Consultant, a Chartered Certified Accountant (ACCA), a Master of Business Administration (MBA) holder, with a Specialism in Strategic Planning, and a candidate for the Herriot Watt University (Scotland) Doctor of Business Administration (DBA).