Published On August 17, 2021 » 1120 Views»
Features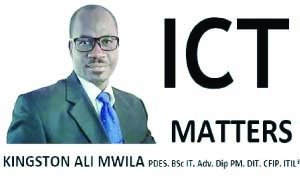 When many people were queuing up to cast their votes and while spending time on phones, they just realised that they could not send nor receive WhatsApp messages, and soon they also noted that Facebook stopped to work.
The news started to spread that Internet, in particular social networking sites, had been blocked by the service providers.
Users resorted to using free Virtual Private Network applications.
The implementation of the Internet shutdown during the elections is nothing new to the African state.
In our previous conversation, I mentioned to you with my prediction that the case studies from other countries may represent Africa, but Zambia has conducted free and fair elections which international observers have commended the nation for.
Therefore, Zambia will maintain its legacy of conducting peaceful elections and citizens will enjoy their digital right to access full Internet.
We also could also predict that African countries follow similar trends in political leadership.
Maybe our hypothesis could have been that it would be 50/50 as regards the Internet being available or not.
We need to realise that other factors could have contributed.
Certainly, we had Internet but it was partially showing.
It was very slow and in most cases non-responsive.
BBC reporters Christopher Giles and Peter Mwai wrote that, this is becoming more common in some African countries, where governments have sometimes shut down or restricted the
Internet and access to social media platforms.
Uganda is the latest country to do so in the run-up to its presidential election on January 14.
Cases of Internet shutdowns in Africa have been rising.
Tanzania restricted access to the Internet and social media applications during elections in October 2020.
In June that year, Ethiopia imposed an Internet shutdown which lasted for close to a month after unrest which followed the killing of a prominent Oromo singer and activist Hachalu Hundessa.
Zimbabwe, Togo, Burundi, Chad, Mali and Guinea also restricted access to the Internet or social media applications at some point in 2020.
In 2019, there were 25 documented instances of partial or total Internet shutdowns, compared with 20 in 2018 and 12 in 2017, according to Access Now, an independent monitoring group (Business Insider).
BBC reality check farther reported that in 2019, seven of the 14 countries that blocked access had not done so in the two previous years (these were Benin, Gabon, Eritrea, Liberia, Malawi, Mauritania and Zimbabwe.)
This is part of a global trend, where more and more countries are restricting internet access.
The group says in Africa, most lockdowns tend to affect entire countries as opposed to specific regions or groups of people.
In 2019, 21 out of the 25 shutdowns recorded by the group affected entire countries or most parts of the countries.
Only Sudan and Ethiopia had targeted shutdowns.
Other than Uganda, Zambia becomes the latest country to shut down Internet though it was partial.
Our previous discussion established the cause or reasons to shutdown of Internet.
The first one is protests.
In 2019, protests prompted restrictions in a number of countries including Sudan, Liberia, and Zimbabwe.
Social media are powerful organising tools so some governments see restrictions on them as a way to tamp down popular mobilisation.
Limiting communication can also prevent the spread of news about the state's human rights violations.
This reasoning was cited as a concern in Zimbabwe and Sudan.
Secondly, unfavourable news or fake news.
Case of Chad. When the Chadian government blocked social media beginning on March 28, 2018, it was not in response to a particular external catalyst.
Instead, the authorities were reacting to a constitutional reform proposal that would allow the long-time president to serve additional terms in office.
The blocking was apparently an attempt to prevent protests or other backlash against the plan, which was likely to be unpopular.Governments have used these as the backing as to why they shut down internet.
Let us discuss the effects of internet shut down.
The cause have been more dominant than the effects.
It is said that to every cause there is an effect.
The period we had partial shutdown should be analysed to study the economic impact to the nation.
Other countries shared the reports.
Olanrewaju Odunowo shared The Economic Impact Of Recent Internet Shutdowns In Africa report in August 2018.
Cameroon (2017, 2018)
Cameroon has two of the longest internet shutdowns in Africa.
In 2017, the Anglophone regions experienced about 93 days of blockage between January 17 – April 20, 2017.
The shutdown which happened after protests against political and economic discrimination by the largely French-led government cost the country about $38,853,122 for the 93 days according to CIPESA.
The latest shutdown in the country lasted between October 2017 and ended on March 1, 2018, a total of 136 days.
The shutdown is estimated to have cost the country about $56,817,469 for the number of days it lasted although some residents were able to access the internet using VPN.
Ethiopia (2016, 2017, 2018)
The Ethiopian government shut down the Internet and social media access several times in 2016.
This was due to protests in both the Amhara and Oromia regions of the country.
In 2017, the Internet was also shut down for a couple of days in order to stop cheats from posting exam papers on social media in the country's nationwide high school exams.
The first shutdown which lasted for 36 days in 2016 cost the country about $125,990,676.
The seven-day shutdown in 2017 cost the country $6,124,547.
The latest shutdown this year which has lasted for about six days with no update yet on its restoration has so far cost the country a total of $195,000 in direct economic income.
DR Congo (2015, 2017, 2018)
In 2015, protests against the government prompted it to shut down the internet in the country for a total of 20 days costing the economy about $38,738,220.
There were reports of another shutdown in August 2017.
Later in 2017, the government also blocked access to social media between December 18-28, 2017.
The blockage cost the economy about $7,263,420. In January 2018, there was a three-day internet shutdown which cost the country about $5,810,733.
Togo (2017)
Following plans by Togo's opposition coalition to hold protests, the internet was shut down for five days between September 11 – 17, 2017.
The shutdown cost the economy about $1,217,535.
Gabon (2016)
Opposition supporters took to the streets after president Ali Bongo was announced winner of the presidential elections in 2016.
The Internet was totally shut down in the country before access was partially restored.
Social media remained blocked and there was an internet curfew between 6pm to 6am.
The shutdown lasted for a total of 18 days between August 31 and September 18.
The shutdown cost the country about $12,789,279.
Republic of Congo (2015, 2016)
Between 2015 and 2016 there were two internet shutdowns in the Republic of Congo.
The shutdowns which lasted for three and two days respectively, cost the economy a total of $2,167,630.
Internet shutdowns have negative effects not just for businesses but for a nation's economy as a whole.
A 2016 Deloitte report (for Facebook) identifies six major areas where shutdowns affect the economy as follows; labour/capital productivity, information/transaction costs, access to new markets, financial access, entrepreneurship and innovation and skills and specialization.
Africa's frail economies cannot continue to suffer Internet shutdowns.
They are just way too expensive from an economic standpoint.
Our decision makers need to consider the cause and effects of every decision they make.
The decision may not only be applied to favour one side but the impact on the economy is always huge.
Internet can be considered as a weapon of cyber-attacks or cyber-terrorism but on the other side it is an essential commodity to the livelihood and development of an economy.
We do not know how much was lost during the partial shutdown of Internet.
The author is a speaker, mentor, educator, trainer, professional and community leader, IT and cybersecurity leader. For comments email: ICTMatters@kingston.co.zm; www.kingston.co.zm; WhatsApp +260 955 689 574.