Published On November 22, 2021 » 1233 Views»
Features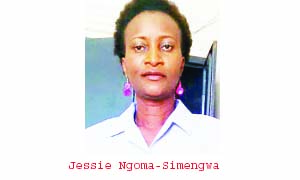 WHEN people look at Gender Based Violence (GBV), what comes to their mind is the physical abuse that is more common in their communities.
This is because the attention on GBV has focused more on its physical and sexual manifestations.
However, little do most people know that financial abuse may be just as common as physical and psychological abuse as it has been identified as one of the most powerful methods of keeping a victim trapped in an abusive relationship.
Women are seen to be more vulnerable to financial abuse because they are often financially dependent on their spouses.
The effects of financial abuse can be life altering.
I received an email from a young woman who wanted to find out if it was okay for a partner to impose a decision on their spouse to stop them from working without considering their decision.
'I have been married for five years and my husband does not want me to continue working as he claims his salary can meet our needs. Our finances are managed by my partner with strict limitation and control,' read part of the message.
While an increase with an extended source of income should relieve the stress coming from a single partner, a wife's financial contribution has created challenges in most relationships as it has been perceived as trying to override male dominance, hence the insecurity.
Financial abuse is described as the controlling of one's ability to acquire, use and maintain financial resources.
Additionally, it involves a perpetrator using or misusing money, which limits and controls their partner's current and future actions and their freedom of choice.
It is in these situations that victims may have their own money restricted or stolen by the abuser, which results in complete access to money and other resources and when they do have access to it, they have to account for why, what and whom it was spent on.
A traditional marriage counselor observed how financial abuse has affected a number of women in relationships.
Maria Chibale said financial abuse has become a source of concern in marriages as seen from the many times that marriage counselors are called to speak to couples.
"Though the most affected is the woman, men too have faced challenges with managing finances in the house. This is common with men who marry women who are economically stable and also we have seen the tit-for-tat scenario that comes about when men have lost their jobs or are no longer in gainful employment," she said.
She said some of the affected married women who sell on the streets have realised the need to become financially independent, but what discourages them is the abusive spouses who await for them when they knock off.
Studies have shown that it is important to understand that financial abuse rarely takes place in isolation.
Perpetrators use other abusive behaviour to threaten and reinforce the financial abuse.
Further, the abuse may include using credit cards without permission, putting contractual obligations in their partner's name, and gambling with family assets.
Ms Chibale said financial abuse has left women with no money for basic essentials, such as food and clothing.
For woman in business, financial abuse has left them without access to their own profits and capital, coupled with debts that have built up by abusive partners tagged against their names.
"As a marriage counselor living in a densely populated township, I have witnessed with my fellow marriage counselors on several occasions how these unemployed men who spend their day drinking alcohol in bars control and threaten to beat up their partners if they don't surrender their money for that particular day," she said.
Imagine a woman who wakes up early in the morning to go and buy goods to resale in the market and only to experience theft from her partner who ends up paying for endless debt that keeps on building up.
The situation has become worse as this has also led to household goods being confiscated.
The marriage counselor, who has now extended her counseling beyond several towns, said she has received positive exposure in enhancing her skills to help women remove all obstacles that include all forms of abuse in marriages.
"Up until recently, we have seen an increase in economic autonomy on women whose manifestation in relationships has not been well understood. Like the common physical abuse reported frequently, we have observed as marriage counselors that the aim of financial abuse by the abuser is to gain power and control in a relationship," she said
Ms Chibale noted that women are generally vulnerable to poverty due to economic dependence they attach to their partners.
This, coupled with inequality, gender discrimination and limited access to capital they experience, there is need to protect them from exploitation by men, which puts them at even greater risk of both poverty and all forms of violence.
Another marriage counselor who only identified herself as Bana Mpundu, who is also known as 'Ichimbusa', said her experience with most married women in employment includes complaints, such as those of men stealing their bank cards or money to spend on drinking.
"What makes sad reading is that partners want to, or have stopped their wives from working because they feel they can manage to provide all the needs of the family. This usually happens to couples were men are so insecure about their wives working and earning an income," she said.
She explained that she has also encountered situations where a young married woman who is not working, wants to further her education, but is denied the privilege because the person who can help her financially to pursue her dreams is the same partner who is so insecure.
Some gender experts have observed that a good number of women have terrific money skills, and everyone has a right to learn about managing their finances.
In addition, they have noted how women are great managers of household budgets and everyone has a right to know about money.
Bana Mpundu said young women are being encouraged not to sit idle in their marriages but also contribute by becoming financially stable and independent as it is one of the most empowering things anyone can do.
She said life is full of mysteries and as such, death and divorce is something people cannot run away from.
Bana Mpundu said when such things happen to women who are not financially literate, they cause a number of challenges.
She said the challenges of addressing GBV because of financial insecurity are among the reasons why women return to abusive partners.
Ms Mpundu implored all women to harness their ambitions through different skills and live meaningful lives that will see them contribute towards their families and society.
She said resulting from the intimidation and threats experienced from financial abuse, a number of women have failed to open up about their abusive relationships and have remained trapped.
In trying to address all forms of GBV, it is important for all stakeholders to continue explaining the need and benefits of increasing economic status of women.
This will bring about enhanced earnings that will help women to contribute to the improvement of their households.
jessiengm@gmail.com.