Published On May 30, 2022 » 1778 Views»
Features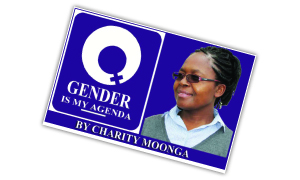 EVERY year on May 28, the world celebrates International Menstrual Hygiene Day.
The commemoration is meant to assist in ensuring that people renew their commitment to improving menstrual health and hygiene.
Menstruation is part of the female reproductive cycle that takes place during the transformation into adolescence at the time of puberty.
It is a natural process signifying physiological development of an adolescent girl and on average, girls reach menstruation at 13 years, but ranging between the ages of nine and 16 years.
The menstruation period usually lasts for an average of five days, but may vary from three to over seven days.
During the course of menstruation, menstrual hygiene management (MHM) cannot be over-emphasised.
MHM demands that women and adolescent girls use a clean material to absorb or collect menstrual blood, and this material can be changed in privacy as often as necessary for the duration of menstruation.
It also includes using soap and water for washing the body as required, and having access to facilities to dispose of used menstrual management materials.
Menstruation is related to human dignity because when people cannot access safe bathing facilities and safe and effective means of managing their menstrual hygiene, they are not able to manage their menstruation with dignity.
Menstruation-related teasing, exclusion and shame also undermine the principle of human dignity.
Gender inequality, extreme poverty, humanitarian crises and harmful traditions have been turning menstruation into a time of deprivation and stigma, which has been undermining their enjoyment of fundamental human rights.
According to various reports, with the onset of COVID 19, communities around the world started feeling the numerous and overlapping effects of the COVID-19 pandemic and these may have significant impact on some people's ability to manage their menstruation safely and with dignity.
Some examples of the effects of the pandemic on communities are gaps in the provision of water and sanitation services, such as lack of sewage maintenance or disruption of water supply, which have a direct impact on people's ability to manage their menstruation.
Stock-outs and supply chain disruptions mean that communities could lose access to sanitary pads, tampons and other menstrual materials.
People who may be quarantined because they have either contracted or come into contact with someone who has contracted COVID-19 may have limited access to menstrual products or running water.
Financial stress on families that could be underemployed due to the pandemic may lead to households prioritising other basic needs like food or paying household bills over acquiring menstruation supplies.
Increased prices of menstrual health supplies due to increased demand, panic buying or disrupted supply chains may leave some without supplies, or without the supplies of their choice.
Lack of knowledge of one's own menstruation and menarche may contribute to stress and anxiety.
The pandemic may limit access to critical information related to menstrual health due to disruption of regular health services, school closures, limited access to technology and suspension of community-based programming.
In times of global crises, such as the pandemic, it is necessary to ensure that people undergoing menstruation continue to have access to the facilities, products and information they need to protect their dignity, health and well-being.
Decision makers must ensure these essential menstrual health items remain available.
In a study funded by Global Affairs Canada and conducted as part of UNICEF's Water Sanitation and Hygiene in Schools for Girls (WinS4Girls) programme in 14 developing countries, including Zambia, on the challenges school girls face when managing menstruation, says there is need to uphold menstrual hygiene for girls.
In Zambia, the study was conducted in Rufunsa and Mumbwa districts.
The programme aimed at advocacy and capacity building for menstrual hygiene management through water sanitation and hygiene in schools.
The study revealed limited knowledge levels and misconceptions on the biological process of menstruation among boys and girls who participated in the study.
Girls consistently reported that they did not know anything about menstruation before menarche (first menstruation) and only received informal education on MHM when they attained menarche.
The study revealed inadequacies in the curriculum on MHM, with the teachers, especially the male ones, requiring support and tools in order to deliver the teaching effectively.
The girls revealed several negative feelings and emotions associated with menarche, including fear, disappointment, shame, rejection and worry.
The focus group discussions held showed deep seated traditional practices and beliefs surrounding the onset of menarche.
The common types of sanitary materials used were cotton wool and cloth material.
The study further showed that girls prefer to stay home during menstruation for fear of staining their dresses, interacting with and being teased by boys.
The girls also reported that the toilets at school were usually unclean and lacked privacy. Therefore, they chose not to use the toilets to manage their menstruation while at school.
All the schools reported not to have any emergency sanitary materials for girls.
The School WASH assessment revealed that World Health Organisation (WHO) standards were not fully met hence compromising adequate MHM practices at schools.
Further studies said when menstruation is not managed properly, lack of access to the right menstrual products may leads to greater risk of infection.
Some studies show that in locations with high humidity, reusable pads may not dry thoroughly, possibly contributing to infection risks.
In some cases, women and girls do not have access to menstrual products at all.
In these cases, they usually resort to using rags, leaves, newspaper or other makeshift items.
These materials may also be prone to leaks, contributing to shame or embarrassment.
One study has suggested that there may be an increased risk of urogenital infections, such as yeast infection, vaginosis or urinary tract infections when women and girls are not able to bathe and/or change or clean their menstrual supplies regularly.
However, there is no clear causal relationship, and urogenital infections are more often caused by internal, than external bacteria.
Women and girls living in extreme poverty and in humanitarian crises may be more likely to face these challenges.
In one refugee community, health workers reported seeing high levels of vaginal infections, perhaps a result of poor menstrual hygiene management.
Cultural expectations and beliefs can also play a role.
Some traditions discourage menstruating people from touching or washing their genitals during menstruation, which might increase their vulnerability to infection and discomfort, and could affect their sense of dignity.
From the above, it is clear that girls, especially those in rural areas have a lot of challenges in adequately managing their menstruation while in school.
For this reason, there is an urgent need to address MHM at the national, provincial, district, school and community level in order to create MHM friendly environments for girls in school in Zambia and beyond.
For Comments: moongacharity10@gmail.com.