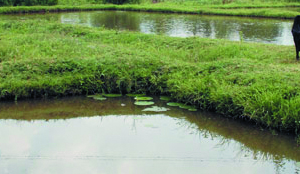 By BRIAN HATYOKA-
TEN households living near Zambezi River in Namanjanga Village of Mwandi District in Western Province, have developed 10 fish ponds and stocked them with 2,000 fish limbs to empower themselves economically.
The villagers, who dug their own ponds, have been supported by the African Wildlife Foundation (AWF), United Nations Development Programme (UNDP) and the Fisheries Department.
Fishing is a major source of income for the villagers and hence they usually suffer when there is a fish ban or when they have low fish catches.
Senior Chief Inyambo Yeta of Mwandi District in Western Province praised the community in his area for initiating a project that was meant to empower them economically as opposed to waiting for hand-outs.
He said in Mwandi last weekend that it was rare in Zambia to have villagers who were responding to the call of development by empowering themselves economically.
"I am a very proud chief to have such a project in my chiefdom. If we can have more of such projects in the country, I believe we will have found the formula for ensuring food security and empowering our people.
"There is no doubt that the fish ponds will serve their purpose which will be to relieve the pressure of overfishing on Zambezi River," he said.
Senior Chief Yeta urged AWF to continue working with the community until they acquired proficiency and efficiency in the venture.
"This is a success story and we should all be proud of this success story," Senior Chief Yeta said.
AWF director for the Kazungula heartland Nasson Tembo said the communities living along the Zambezi River depended on fishing for their livelihood but there was currently a reduction in the fish population.
Mr Tembo said the community in Namanjanga requested to have an alternative fish resource to mitigate the shortage of fish in the Zambezi River and hence the decision to help the community.
"This project is community-owned as the community now have an alternative source of income when there is a fish ban or when fish catches in the Zambezi River are low.
As AWF, we helped the community with a dam liner bought at a cost of K15,000 while the Fisheries Department has been helping to train them on how to fix the dam liner as well as on how to fertilise the pond," he said.