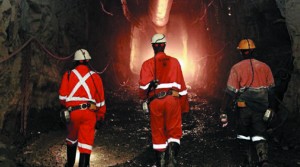 By INNOCENT DAKA-
LUMWANA Mine in Solwezi has halted production of copper ore at its Barrick mine following the collapse of the conveyor at the site.
The coarse-ore stockpile conveyor which has a capacity of 80,000 tonnes of copper ore per day collapsed on April 15, this year and has remained down since then.
Lumwana Mine general manager, Bill McNevin and processing manager Guy Gordingley confirmed the development yesterday.
This was when North-Western Province Minister Nathaniel Mubukwanu inspected the site.
Mr McNevin said the mine could not continue to extract copper ore because it was unable to move ore from the pits to the stockpile after the collapse of the conveyor.
Mining activities have since been scaled down in order to clear the waste on the pits and prepare for the installation of in-pit crushing technology.
Mr Gordingley on the other hand said the suspension of operations would have serious financial implications, but assured that no single job would be lost during this period when mining activities were suspended.
He said investigations were still underway to establish what caused the coarse-ore stockpile conveyor to collapse.
Meanwhile, Mr Mubukwanu assured management that Government would provide any support to ensure normal operations resumed at the mine.
He said Government was concerned every time there was a breakdown at the mine because the impact affected not only by the mining company but also the economy of the country.-ZANIS