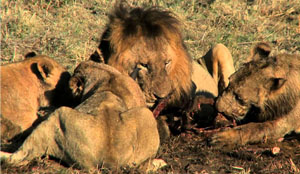 By NORMA SIAME and REBECCA MUSHOTA-
A PRIDE of more than a half dozen lions are terrorising villagers in Chief Makasa's area in Kasama leaving behind a trail of livestock carcasses they have killed since their arrival in the area.
The lions are believed to have crossed over into Zambia from neighbouring Tanzania as the same group was spotted several weeks ago in Nakonde in Muchinga Province.
Zambia Wildlife Authority (ZAWA) game rangers have since been deployed to the area where they managed to kill a young male lion on Sunday.
Villagers keeping close to their homesteads for fear of being attacked, said the lions were too close to human settlement areas and pets like dogs had fallen prey to the feline predators.
Northern Province Commissioner of Police Charity Katanga called for calm as ZAWA officers had been deployed to track down the lions.
Scores of residents rushed to get pictures while posing with the dead lion after it was brought to the central district before disposal.
Ms Katanga said she would give an update on the operation later in the day.
Some residents talked to suggested wildlife organisations should be brought in to assist ZAWA track down the lions and move them to a national park as opposed to killing them.
ZAWA communications and public relations officer, Readith Muliyinda said the lion had killed 11 cattle and two pigs in Chief Makasa's chiefdo
Ms Muliyunda said it was suspected that the lions could be in the area because it was the breeding season for them and that is when they stray.
"We may experience more of such incidences this time of the year because it is the breeding season," she said.
Ms Muliyunda said ZAWA officers were informed and they were on the ground but that they have so far just seen one, the same lion they killed.
She said ZAWA was still surveying the area.