Published On July 11, 2014 » 3614 Views»
Features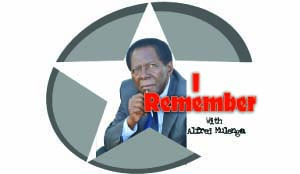 IT had never occurred to me that he had returned from Wellington, the capital of New Zealand until we met unexpectedly in Uncle Alfred Simate's office in Kulima Tower in Lusaka's busy Central Business District (CBD).
Samu Zulu, one of Zambia's foremost investigative journalists and writer of a controversial weekly column, 'Who Owns the Shop Next Door', had left the Times of Zambia to accompany his expatriate friend who was returning home at the expiry of his contract with Mobile Oil Company in Ndola.
In the face of traumatising events in East Africa, where former dictator Idi Amin expelled Asian traders from Uganda following his accession to power in a military coup, Samu Zulu's column was discontinued allegedly because it had the potential to cause problems in Zambia, a country that was aspiring to create a non-racial society.
But Samu, as he was popularly known, had confided in me (and indeed other people, I would like to believe, including newspaper editors who had sanctioned the project) that the intention was not to stir up trouble for anyone, but to demonstrate that after so many years of political independence and former President Kenneth Kaunda's famous Mulungushi Economic Reforms, an audit of most business establishments  would (in terms of frequency distribution) show that indigenous people had "done little or nothing to change the status quo", as commerce and industry were still dominated by Zambians of Asian origin.
Fellow media practitioners and other social scientists, including editorial executives who had endorsed the research project – thought Samu Zulu had a well thought-out hypothesis for his field survey as it was likely to inspire a new breed of indigenous and better educated black Zambian entrepreneurs to rise and take up the challenge of putting the country's economy in the hands of the former marginalised majority.
That was, in fact, the spirit behind the Mulungushi Economic Reforms and a major cornerstone of government policy.
But, unfortunately, people in the corridors of power and those pursuing parochial interests, saw things differently. As a result, just like the late Marta Paynter's popular 'Through My Copper Tinted Lenses' weekly column, Samu Zulu's Who Owns the Shop Next Door was discontinued, much to the fury of the avid readers across the nation.
However, I would not say for certain that it was one of the reasons that compelled him to leave Zambia for supposedly greener pastures in far away New Zealand.
When the time to leave for Wellington came, and as he could not find buyers for most of his goods, including a non-runner VW Beetle car, Zulu left them in my custody.
"Cousin, please see if you can keep them for me," he said as he showed me the items at his former apartment in Ndola's Kopa Road.
"We're leaving tomorrow for New Zealand via Singapore. If, for some reason, I don't come back, sell them; but for God's sake don't 'chew' the money," he said as he smiled from ear-to-ear.
Unfortunately, for poor Samu, I could also not find buyers for his goods by the time I was leaving Ndola for Gaborone to take up an appointment as Editor of The Botswana Gazette newspaper. As he had not left a forwarding address, I could not get his next instructions.
In such circumstances, I had no option but to give away the items because I did not have anywhere to store his goods – most of them 'odds and ends' while I was away.
Suddenly, there he was: Looking ashen, Samu Zulu still had the energy to burst into Uncle Alfred Simate's Kulima Tower office that he used to share with nephew and former Times of Zambia sports editor Ridgeway Liwena, who, according to him, had been 'unfairly' retrenched by some newly appointed managing editor from a rival daily.
"For God's sake Alfred what are you doing here? I was in this office yesterday with Ridgeway, but he did not mention that you were in Lusaka; he just said I should come today because he had a surprise for me," he said as we locked ourselves in a bear's hug, and caressing  each other like the biblical Prodigal Son and his welcoming father.
I explained that, like a Muslim pilgrim in transit, I had stopped overnight to meet old friends and see just how much my favourite city had progressed compared to cities like Francistown and Gaborone on the other side of the Zambezi River, known as the Chobe River in Botswana.
When asked about his 'adventures' overseas (he had been to India before then) and in the land of the 'Kiwis' and Maoris in particular, Zulu said, "It's a long story; may be I should sit down and write a book one of theses days".
Then we talked about his Ndola 'goods that nobody seemed too keen' to buy and also laughed uncontrollably about his 'fortune' tied-up in 'unsold stock'. After almost a quarter of a century, it was indeed a grand reunion by every account.
What was the former popular investigative journalist doing upon his return to mother Zambia? I asked the man I first met at the then Evelyn Hone College of Further Education in Lusaka as a journalism scholar in 1968.
Regrettably, Samu Zulu said, nobody seemed eager to give him a job in the country; so he had decided to become a sole proprietor – as a beef vendor.
"What?" I asked, adding, "You must be joking."
"No I am not kidding you; I buy and sell meat. It has been a bit rough, but I am beginning to enjoy it," he said while looking through the window facing the sprawling Kanyama Township, which is located on the western outskirts of the city, perhaps unconsciously suggesting that it was probably one of the lucrative markets for his beef enterprise.
Obviously perplexed at the rather bizarre turn of events, I said, "You can't be serious; it is a waste of talent because you are such a gifted writer."
He looked down momentarily before pulling himself together. He revealed that when he returned home from New Zealand, he found that his elder brother had been shot dead in an armed robbery; so he would have been more miserable if it were not for former colleagues like Ridgeway and a few others in populous Lusaka.
I in an effort to broaden the scope, I invited both men to join me in running a private news agency that some Batswana friends and I had set up in Gaborone, explaining that he (Samu) and Ridgeway could man the Lusaka bureau, writing stories and feature articles as a way of helping young college and university journalism graduates and veteran journalists (like themselves), who could not find full-time employment in both Government and the private sector, earn a decent living.
In Botswana some of the editors had welcomed the project because they regarded it as one way of promoting regional integration, as envisaged by Sir Seretse Khama of Botswana, and presidents Kenneth Kaunda and Julius Nyerere of Tanzania, the principal architects of the Southern African Coordination Conference (SACC) now called, Southern African Development Community (SADC).
I found it deeply disappointing to learn that, save for the Times of Zambia and, to some degree, Zambia Daily Mail's bosses, editors at other media houses in Lusaka, were ambivalent or shunned the project when approached.
In his letter, which was a sequel to our Kulima Tower impromptu meeting, Samu Zulu further explained  that although he and Ridgeway were determined to ensure success, progress "on the Zambian side" was slow partly because some editors and newspaper owners were so wedded to Western news agencies that something needed to be done to 'de-colonise' the minds of most African editors.
He also wanted to know if it was possible for me to make arrangements so that he could come over to Botswana and interview former first lady, Lady Ruth Khama, the wife of Botswana's founding president Sir Seretse Khama who died on his birthday, July 1, 1980.
Samu Zulu, who claimed to have been on talking terms with Lady Khama during the time he worked for the Botswana Guardian and Midweek Sun, then owned by Welshman the late William Jones, suggested that if I failed to get hold of her, I could always contact her eldest son, Lt-General Ian Khama, the current president of Botswana, who was the Commander of the Botswana Defence Force (BDF) at the time he was personally known to him in Gaborone.
Before he concluded his letter, Samu Zulu said, "By the way you must have noticed that I had lost a lot of weight when we met in Ridgeway's office. It's not because of HIV/AIDS. I had undergone an operation at the University Teaching Hospital (UTH) where gall stones were removed from my bladder. Next time we meet I will have regained my weight…I will be as fat as you are."
To demonstrate that he was still active as a freelance Times of Zambia correspondent, he enclosed a cutting of an article he had written and had it published in the paper.
Reminiscing about our good old days on the Times, Samu Zulu underlined, in ink, the paragraph in which he made reference to the headline I had grafted (as ToZ chief sub-editor) in the early 80s on a story  involving notorious gangster, Nevers Kapenda, who denied a charge of armed robbery when he appeared in the High Court.
Using the suspect's two names, the headline – which most people hailed as apt – simply read: 'Never, says Kapenda'.  But Kapenda was later found guilty, however.
As a follow-up to his request, I decided to drive to the offices of the Botswana Red Cross Society (BRCS) along Independence Avenue and near the Roman Catholic Cathedral, in a bid to see Lady Khama and probably secure an interview for my friend. Sadly, I did not find the former First Lady in her BRCS office.
The following day, I tried to contact Lt-General Khama at his Sir Seretse Khama Barracks (SSKB) in Mogoditshane village, which is located on the western outskirts of Gaborone city, but to no avail.
(Lady Khama passed on a few years later).
In an effort to give Samu Zulu some feedback, I tried to get him on his cell-phone, but got no response. I sent him many emails and SMS's, but all of them remained unanswered for a long time. What could have gone wrong? I kept on asking myself.
Then one day Ridgeway Liwena resolved the mystery: "Sam Zulu had died – and his body remained unidentified in the UTH mortuary for a considerable period of time", because no one seems to have reported him missing to the police.
Where were his parents or close relatives? Strangely, nobody seemed to have a clue at the time.
In utter frustration and shock, I tore Zulu's letter up and threw away the newspaper cutting that I had kept in one of the drawers. But looking back now, I feel I shouldn't have done that.
I should have preserved his hand-written letter as a memento and testament to our friendship because I can always access the newspaper cutting from the morgue in the Lusaka and Ndola offices.
Now I only have a mental picture of the good times we shared together. He was such a damn good writer and a jolly good fellow.