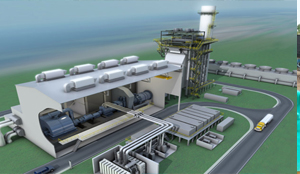 By REBECCA MUSHOTA?-
THE Ndola Energy Company has embarked on the construction of a 50 mega watts power plant to mitigate electricity shortages in the country.
The proposed project cost is estimated at US$50 million.
According to an Environmental Impact Assessment (EIA) report submitted to the Zambia Environmental Management Agency (ZEMA), the company wants to set up a thermal power plant that would run on heavy fuel oil of low sulphur content as primary input fuel for flaring to generate?heat energy.
The report said the plant would run on six engine generator sets and no additional fuel storage tanks were required for the power plant.
The only infrastructure to be put up would be the engine housing building, the power cables and the pipe network to link to the first power plant.
The company already has a running power plant at their location in Ndola's industrial area of 50 mega watts.?'
'The objectives of this project are twofold; one is to generate power from heavy fuel oil and feed into the national grid to minimise power shortages and power industrial activities,'' the report reads in part.
The project will create job opportunities, many of which will be in the construction phase.
About 120 direct jobs are expected in the construction phase only and more than 100 indirect jobs are expected.
The operation phase would have between 15 to 20 permanent jobs.
In turn, the jobs created would help reduce poverty levels and air borne diseases emanating from charcoal and firewood smoke used in residential areas for cooking and heating.
At industrial level, the project would stimulate development through the production of goods and services at larger scale.
However, the negative impacts foreseen are incomplete combustion to ambient air, and gaseous emissions.
Other negative impacts might include possible leaks of hydrocarbons to soils, surface and ground water from the piping networks.
To manage leaks of hydrocarbons, computerised leaks detection and monitoring systems would be used.
The report said the company would embark on the construction of the company as soon as the EIA is approved this year.
Ndola Energy is 75 per cent owned by Great Lakes Energy, while the remaining 25 per cent is owned by Zambians under the Citizens Economic Empowerment Commission provision.