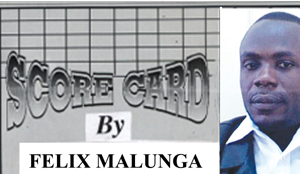 THE decision by Chipolopolo star players, Stoppila Sunzu and Nathan Sinkala to finally trek to Europe for their football career progression is a welcome move.
Sunzu, who had a short stint at French Ligue 2 Chateauroux in 2008, clinched a three and half years contract at Ligue 1, Sochaux while Sinkala penned down a six-month loan deal with an option of a permanent move.
Tribute should also go to former Chipolopolo coach, Herve Renard, now in charge at Sochaux, for personally ensuring the two players, who were part of all-conquering Zambian team at the 2012 Africa Cup of Nations (AFCON), got into Europe from DR Congo.
This move has indeed brought some hope that probably now Zambians will be an attraction again into European football like their colleagues in West and North Africa.
However, this may only be possible if Sunzu and Sinkala perform well in France.
For some time, Zambia has been lacking many quality players breaking into competitive European leagues.
Before the duo's move to France last week, Zambia, despite being endowed with many talented players, only had Jacob Mulenga, Emmanuel Mayuka and Chisamba Lungu featuring in some of Europe's top leagues.
Mulenga plays in the Dutch Eredivisie at FC Utrecht, Mayuka is on loan in the French Ligue 1 from English Premiership, Southampton, while Lungu is pursuing his career in the Russian Premier League.
Not having many Zambians plying their trade in competitive leagues dotted around the globe can also have some negative effects on the performance of the national team.
For example, whenever AFCON kicks-off in January, most Zambian players, who turn out for African and Asian clubs, will be to some extent rusty because their respective leagues at the time will be on recess.
Only those players, who are based in Europe and probably South Africa but also regular at their clubs, will have the much-needed match fitness going into major events like AFCON.
Therefore, it is my hope that the move by Sunzu and Sinkala will open more opportunities for Zambian players to taste European football.
Like former Chipolopolo first choice goalkeeper, Davies Phiri observed, we have to export as many quality local players as possible into competitive leagues around the world because doing so could greatly help turn around the fortunes for Zambia.
My appeal also goes to clubs with players, who have attracted interest from top teams outside Zambia, that they should not be rigid but allow the footballers pursue their dreams.
The issue of putting exorbitant price tags of some of these untested players by as. For comments: malungaf@gmail.com