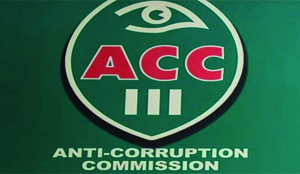 By CATHERINE NYIRENDA –
THE Anti-Corruption Commission (ACC) is considering appealing to the High Court against the acquittal of former Ministry of Health human resource officer Henry Kapoko and seven others.
ACC director Roselyn Wandi said in an interview yesterday that the commission was not happy with the verdict passed by the Magistrate Court.
She said the Commission was studying the verdict which was handed down on Friday last week by deputy director of commercial courts Sharon Newa who sat as magistrate.
"We are not happy with the outcome, we are studying the judgment and we would later appeal to the High Court against the decision of the magistrate," he said.
The Magistrate on Friday last week acquitted Kapoko and seven others of charges of theft and money laundering involving K4 million.
Kapoko and nine others were facing 21 counts of theft by public servant, theft and money laundering involving K4 million.
Delivering one of the longest judgments in the history of the Zambian judiciary, Magistrate Sharon Newa acquitted Kapoko and other nine accused persons because the state failed to avail evidence linking them to the crime.
The judgment was read from 10:00 hours until 22:10 hours. But Newa jailed Royal Secretarial College Proprietor Valenta Nkata to three years simple imprisonment for theft and money laundering.
The court also fined Nkata K20, 000 or in default six months in prison.
The State proved beyond reasonable doubt that Nkata connived with officers from the Ministry of Health to use her College for workshops for the Ministry which never took place but she was paid a lot of money for it.
It was ruled that Nkata failed to refund the money to the Ministry of Health and ended up depositing the money in her personal bank account.
In mitigation, defence lawyer Marshall Muchende pleaded with the court to exercise leniency, saying his client was a first offender and a prominent member of the Church.
Nkata's daughter Abigail who was jointly charged with her was discharged by the court after a moving mitigation by the defence lawyer.
Ms Newa also ordered that all proceeds from the crime by Nkata be forfeited to the state.
Kapoko and other officials from the Ministry of Health were arrested by the Anti-Corruption Commission in 2009 for various offences of corrupt practices and theft by public servant involving K 10 million.
In November 2012, Kapoko and eight others were also acquitted of theft involving 1.9 million kwacha.
They had been accused of having stolen from the Ministry of Health by pretending that they would supply 50,000 mother baby kits.