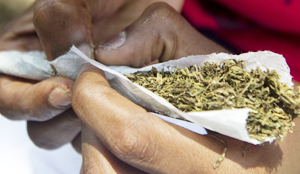 By YVONNE CHATE-
YOUNG men in Ndola have found smoking marijuana fashionable, Ndola Chief Resident Magistrate Paul Chisha has said.
Mr Chisha said this on Thursday last week when he sentenced Brian Mulenga 28, of house number BB 0004 Chipulukusu Township for trafficking 501 grammes of Marijuana, a psychotropic substance.
He said it was clear that youths found smoking fashionable because of the high number of young people that were brought before court for smoking marijuana.
Mr Chisha said smoking marijuana was a bad habit that should be brought to an end and society should know that it was a not lawful to abuse drugs.
"This district is littered with young men who smoke and have found it fashionable. The society should however learn that it is not acceptable," he said.
Facts of the case were that on September 26, this year around 19:40 hours, the convict trafficked in 501 grammes of Marijuana in Ndola.
Mulenga was apprehended by a Drug Enforcement Commission (DEC) officer who was following up a report that there was a man who was selling marijuana in Chipulukusu Township.
Mulenga was approached by the DEC officer who found him with 20 balls of suspected cannabis wrapped in a plastic bag.
He was then detained at Ndola Central Police Station where he admitted to the charge and the substance was taken to Lusaka for a chemical analysis at the Food and Drug Control laboratory where it was confirmed that it was 501 grammes of marijuana, a herbal product of cannabis.
When the matter came up for reading of facts, Mr Chisha convicted Mulenga.
Mulenga in his mitigation asked the court to be lenient because he had a wife, a child and two dependents to take care of.
He asked the court to forgive him and that he would not commit the offence again.
Mr Chisha in sentencing Mulenga said young people found smoking marijuana fashionable and that he was sending Mulenga to jail to teach others that smoking marijuana was a crime.
He sentenced him to one year three months imprisonment with hard labour.