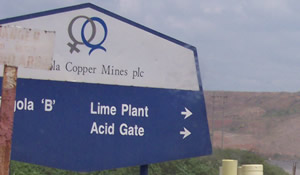 By MAYA NTANDA –
THE Copperbelt Energy Corporation (CEC) has said Konkola Copper Mines (KCM) has paid a total of US$50 million it owed the energy utility company.
Meanwhile, CEC is expected to spend about $18 million to construct a circuit line between Zambia and the Democratic Republic of Congo (DRC) to enhance power inter-change and develop the international market.
CEC managing director Owen Silavwe said KCM has paid $50million out of the US$60 million that it owed CEC.
Last month, CEC had restricted electricity supply to KCM after the mining company allegedly reneged on its contractual obligations and refused to pay $44million.
CEC had commenced restriction of electricity supply to KCM in accordance with the provisions set out in the Power Supply Agreement (PSA) for non-payment of outstanding invoices.
However, Mr Silavwe said during a media breakfast meeting in Kitwe yesterday, that as of last month, KCM paid a total of $50 million.
He said the two firms remained partners and had learnt lessons from the standoff in the past months.
"We have had a challenging period with KCM in the past months, however KCM has paid a larger chunk of what was owed, which is good, some amounts are outstanding but the two companies are willing to find a lasting solution to the issue," he said.
Mr Silavwe said the two companies were committed to finding a lasting solution to the standoff that they had over payments.
He further said the construction circuit line would see the capacity of the inter-connector between Zambia and DRC extended from 250 to 550 megawatts and the project was expected to be completed between June and July next year.
Mr Silavwe said the energy firm was focused on diversifying into generation of power from the supply and distribution that it had been known for over the years.
He further said CEC had conducted feasibility studies on the construction of an 800 megawatt power station on the Luapula river but was waiting for Government's consent to proceed with the project.