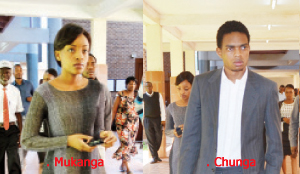 By DELPHINE ZULU –
THE Lusaka Magistrates Court has convicted local artist Robert Chunga, also known as 'Bobby East', and his co-accused Ruth Mukanga for producing obscene materials.
This was after they took fresh plea and admitted to the charges, having denied them at the start of the case.
Chunga 25, of house number 1551 Zumbo Crescent in Chunga Township in Lusaka and Mukanga, 21, a human resource student, of house number 398 A off Kafue Road in Makeni Township, were charged with producing obscene matters.
Senior resident magistrate Mwaka Mikalile convicted the duo after admitting they engaged in a sexual activity and later produced it using an Iphone before it went viral online.
When the matter came up yesterday, the State prosecutors informed the Court that they had received consent from the Director of Prosecutions (DPP) to prosecute the matter but the defence lawyer, Osborn Ngoma told the court that his clients wanted to change their plea.
Clad in a dark gray suit, Chunga and his partner Mukanga, also in a black dress, told the Court that the leaked video showed the pair engaged in sexual activities.
The statement of facts read in Court revealed that investigators went to Zambia Information and Communications Technology Authority (ZICTA), where they watched the video and decided to apprehend the duo.
Ms Mikalile has since reserved sentencing for Friday.