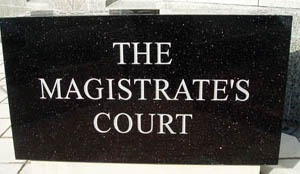 By MILDRED KATONGO –
AN EIGHTEEN-YEAR-OLD-house maid of Kitwe has been sentenced to four years simple imprisonment for child stealing.
Kitwe senior magistrate Daniel Musonda sent to jail Linda Siyamun'gombe also known as Chintu for stealing two children aged six years and six months respectively on June 14.
Linda who was working as a maid in Kitwe's Nkana East, stole the two children belonging to Kennedy Simfukwe.
On the day of the disappearance, the mother of the two children, Doreen, went to take a bath around 14:00 hours, but discovered the children had gone missing.
The children were discovered in Kabwe after a member of the public found the older child abandoned at Big Bite Restaurant.
Linda, who was convicted after she pleaded guilty to two counts, was sentenced to two years in each count and the sentence would run concurrently.
This meant she would serve a jail term two years.
Mr Musonda said the offence was serious and attracted a maximum jail sentence of 14 years.
He however, said he would be lenient in sentencing the teenage maid as she was young, a first offender and had readily admitted the charge without wasting the court's time.
"I have taken into account that you are the first offender, young, you readily admitted the charge and need to be given a chance. I therefore, sentence you to 24 months simple imprisonment in each count.
"This will run at the same time," he said.
Mr Musonda granted Linda leave to appeal to the High court if she was not happy with the sentence.