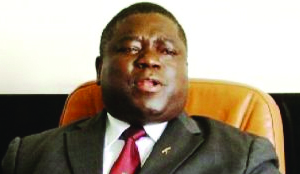 By ANDREW PHIRI –
GOVERNMENT has said having a strong human capital base and embracing the use of Information Communication Technology (ICT) is cardinal for economic growth.
Transport, Works, Supply and Communications Minister Yamfwa Mukanga said that Government realises that almost everything in modern society is surrounded by the use of ICT as a mover of economic development.
Mr Mukanga said the ICT sector was evolving at a fast pace and Zambia as a country should not lag behind.
He said the change in technology could only be attributed to a number of factors, citing changes in policies by telecommunication regulators, new innovations by telephone operators and changes in demands by consumers.
He said this during the official opening of the 10th regional workshop on human capital development and e-learning for the Southern African Telecommunication Association in Livingstone yesterday.
He said Government had come up with a deliberate policy aimed at promoting the use of ICT in schools in an effort to build capacity at an early age and have a future generation abreast with technology.
He said the role played by human resource practitioners had also evolved over the past decade.
Mr Mukanga said with the advancement in technology, the demand for the development of human capital in ensuring it was relevant to the success of the business had also expanded.
Government was looking at possibilities of having e-governance, e-parliament and e-campaigning programmes as well to improve governance systems.
He said e-learning had accomplished significant advances in corporate training not just because it applied to technology but also contributed to skills development and human resource growth in organisations.
ZAMTEL chief executive officer Mupanga Mwanakatwe said ICTs were critical in the delivery of quality goods and services.
Dr Mwanakatwe said it was imperative for operators in the telecommunication industry to be seen to be championing the empowerment of their staff in embracing technological changes in line with global trends.