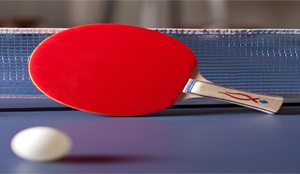 By SANDRA MWILA –
ZAMBEEF yesterday donated K20, 000 to the Zambia Table Tennis Association (ZTTA) towards hosting of the Confederation of Southern Africa Table Tennis Association (CCATTA) Zone Six tournament that starts on Friday.
Company head of marketing Perry Siame, who presented the cheque in Lusaka yesterday, said Zambeef was proud to be associated with the hosting of the Zone Six tournament as well as contributing to the development of the sport.
"We are looking forward to a successful tournament this year having been associated with the ZTTA in organising tournaments since 2012. This donation demonstrates our commitment towards helping table tennis in the country," Siame said. 
And ZTTA patron, Haroon Ghumra, who is also tournament public relations manager, said the organising committee has been left with a deficit of K95, 000 from its K190, 000 budget ahead of tournament that gets underway on Friday at the Olympic Youth Development Centre (OYDC) in Lusaka. 
Ghumra expressed gratitude to Zambeef for the cheque and 100 branded T-shirts to be used by participants during the tournament that has attracted six countries namely defending champions South Africa, Angola, Botswana, Namibia, Zimbabwe and hosts Zambia. 
"I am optimistic that as we count down to the tournament that officially opens on Friday afternoon, we would have met our budget because as an association we are knocking hard on the doors of companies," he said. 
Ghumra appealed to the corporate world to come to help the association and ensure Zambia successfully staged the Zone Six tournament which he said would boast the growth of table tennis in the country. 
ZTTA president Charles Chenda said the association had also written to the Sports Council of Zambia (SCZ) requesting for assistance but was yet to receive feedback.