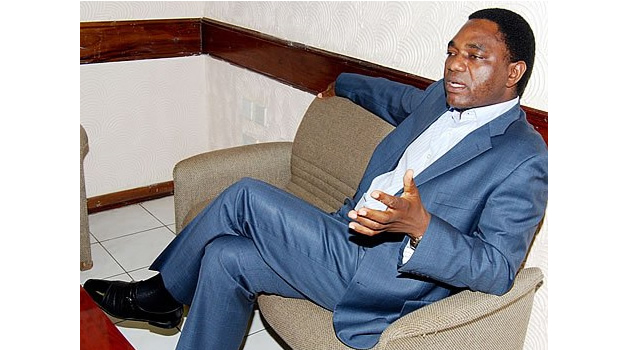 By PASSY HAACHIZO and CHUSA SICHONE –
DIFFERENT sections of society have roundly condemned United Party for National Development (UPND) leader Hakainde Hichilema for opposing the National Day of Prayer, Fasting and Repentance set for October 18, 2015.
In solidarity with President Edgar Lungu's declaration of the special day, the Evangelical Youth Alliance International (EYAI) said it was wrong for some opposition political leaders to discourage people from taking part in the National Day of Prayer, Fasting and Repentance.
EYAI president Moses Lungu accused the opposition leader of frustrating every move the Government was taking in fear that if God healed the nation, they would lose popularity.
Reverend Lungu said in a walk-in interview in Lusaka yesterday that it was wise of the President to call for a day of national prayer, fasting and repentance in an endeavour to heal the country from its current challenges.
The clergyman said his organisation, like other progressive and God-fearing Zambians, had joined in supporting the proclamation and encouraged other Christian bodies and individuals to come together and embrace the special day.
Rev Lungu said despite the issue looking simple, there was need for divine intervention as there were some spiritual forces of darkness that were haunting the nation.
"There have been forces trying to touch on our nation and this time they have touched on our economy and I believe the President has been labouring as an intellectual who had come up with a wise decision," Rev Lungu said.
Rev Lungu was glad that the majority of Christians had shown positivity towards the day of national prayer and fasting.
In Lusaka, MMD national youth secretary Bowman Lusambo said in a statement that it was baffling that Mr Hichilema opted to denounce President Lungu's October 18 declaration instead of commending the convenors for such an important event.
"As MMD youths, we find the statement from UPND leader Hakainde Hichilema that he will not attend the October 18 National Day of Prayer, Fasting and Repentance highly regrettable and unfortunate.
"Instead of commending the convenors of this important event, Mr Hichilema was on a radio programme denouncing the move and describing the event as a mockery to God," he said.
Mr Lusambo said MMD youths believed that President Lungu's proclamation that the entire nation dedicated October 18 to prayer, fasting and repentance was consistent with biblical teachings.
Mr Lusambo said it was surprising that Mr Hichilema who aspired to rule the country could place conditions before he could participate in such a key national undertaking.
"We wish to remind Mr Hichilema that all leadership is anointed by God and that God speaks through his appointed leaders. We believe that President Lungu is simply a vessel that God wants to use to reposition Zambia for greatness.
"The history of Zambia is full of moments in which the entire nation came together under a single umbrella and cried out to God for help and the Almighty God has always seen us through," Mr Lusambo said.
He said it was clear that Zambia was currently facing numerous social and economic challenges and thus it was imperative that a day dedicated to prayer and fasting was observed, as the country had always sought God's intervention under trying times to restore hope.
Mr Lusambo called on the Church mother bodies to challenge Mr Hichilema to explain the true reasons for his decision not to participate in the national day of prayer and fasting events as well as to counsel him on the importance of keeping a relationship with God as a leader.
The MMD youths have since vowed not to support leaders in a habit of politicising Godly activities and challenged all political leaders aspiring to lead the country to come clean on Godly matters.
Meanwhile, UNIP says it is only through God's intervention that a solution to the challenges the country is grappling with can be found.
In welcoming President Lungu's declaration of October 18, 2015 as the Day of National Prayer, Fasting and Repentance, UNIP information and publicity secretary Thomson Shachoobe said all Zambians should support the Head of State's proclamation for God to come to the country's aid.
"What must ring in every mind of every Zambian is that the solutions to the current situation in Zambia have reached a point where only God can solve.
"In this vain, fellow country men and women, we remain with no option except to sit down as one, in one accord as brothers and sisters and call upon God to help Zambia," he said.
Mr Shachoobe said that Zambia was a Christian Nation as declared by second Republican president Frederick Chiluba and that no one was immune to problems, thus God was needed in such times.
Mr Shachoobe cautioned people against fighting and insulting each other but that they should instead talk and love each other.
"We shall work as one to develop Zambia. We shall lead as an example to many African states. Let us join hands regardless of which political party one may come from, there should be no boundaries of any kind.
"Pray that October 18 God will or must answer our prayers. Let's do all things together for the sake of our own good," he said.