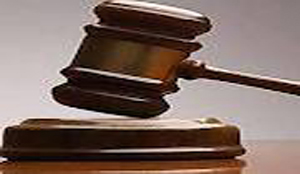 By MAYA NTANDA –
THREE illegal miners commonly known as 'Jerabo's yesterday walked to freedom after they were acquitted by the Kitwe High Court for beating another jerabo to death.
High Court Judge-in- charge Catherine Makungu acquitted  George Nkomba, 24, Reagan Chiwewe, 21, and George Chama 23,  all of Chingola due to insufficient evidence against them.
The trio was accused of murdering 19-year- old Cletus Mambwe on April 15, last year, after they allegedly beat him leaving him with injuries all over the body.
Mr Mambwe had complained of a headache and pain on the private parts. His mother Edith Kasongo had testified that on April 11, last year that around 20:00 hours, she was going home when she saw three people whom she knew as her sons friends beating him.
Ms Kasongo told the court that Nkomba was axing her son all over the body while Chiwewe and Chama were holding him.
When she asked them why they were beating him, they told her to go away before they axed her as well.
The court heard that no one tried to rescue her son and that Ms Kasongo ran to her house and phoned her other son informing him about
the incident.
After some time, Mr Mambwe walked into the house in a naked state and had sustained injuries all over the body. He later died at his house on April 15.
In defence, the trio said they were illegal miners conducting their activities at Nchanga open pit mine and that on the material day, they were informed that their colleague was beaten by unknown people in Kapisha Township.
They decided to visit him but they reached Kapisha Township late and decided to spend a night at Chama's house.
It was while they were at Chama's house that they were apprehended by the police and accused of causing the death of their friend.
Delivering Judgment yesterday, Ms Justice Makungu said the prosecution had failed to discharge its burden of proof against the three accused persons.
She observed that the evidence of the prosecution witness was not corroborated and that the deceased's mother would have called for
help when she saw her son being beaten.
Ms Justice Makungu noted that the incident occurred on April 11 and that the matter was only reported on April 15 after the death of the deceased and no medical report was issued.
She said Ms Kasongo and her son, who had also testified in the case, had ample time to fabricate the case against the accused persons and doubted where the crime occurred.