Published On February 1, 2014 » 2031 Views»
Features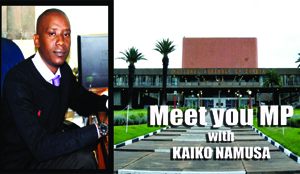 IN this weekend's column, focus shifts to yet another rural Constituency, Sinazongwe, which is located in the Gwembe Valley of the Southern Province.
Like any other rural area in the country, the area unveils its own challenges when implementing development but these, no matter how hard they unfold, area Member of Parliament, Richwell Siamunene is not deterred to achieve this goals for the more than 100, 000 people in his area.
Mr Siamunene, a Marketer by profession, was born in 1972, in Choma in Southern Province and comes from Sinazongwe in Makula Village.
He attended primary education in the same area, at Sinanjola Primary School and proceeded to attain secondary education at Pemba Secondary School, within the province, and is now pursuing his MBA in Marketing and is a happily married politician.
He affiliates with the opposition United Party for National Development (UPND) but is one of the few opposition members working within the Patriotic Front (PF) Cabinet as deputy Minister in the Ministry of Commerce, Trade and Industry.
In 1998, Mr Siamunene joined active politics, a decision he took following his desire to work for the people of Sinazongwe, to bring development, in an area engulfed by high poverty levels, lack of infrastructure, limited health facilities amidst abundant natural resources.
"The levels of poverty prevalent in Sinazongwe and other areas in the country, inspired me to join politics so that in one way or another, I could help and here I am doing exactly that," he recalls as he journeys in his political life for the betterment of the rural populous.
The Gwembe Valley in the Southern Province, stretching from the rocky areas of Gwembe District to Sinazongwe District, hosts abundant natural resources, the Kariba Dam nearby, but despite this part of nature bestowed in this location, one frowns to learn that such potential is in wait for deep exploitation to realise its full potential.
Road Sector
The infamous Bottom Road is one other concern for the multitudes in this Valley.
Mr Siamunene believes and one can argue less with him, on the vast potential that this stretch can open up once it's completed.
He says the works on the road under the current Government are pleasing, that after a long wait, there is hope at the end-of-the-tunnel that the road project will be completed as contractors have already started works.
What potential is Mr Siamunene referring to? With the abundance of water, the fishing industry can boom, agriculture activities can thrive, and so can other social amenities be improved. These sectors are priority for economic activity in the area to thrive.
Since winning the Sinazongwe seat in 2011, Mr Siamunene, believes the time is ripe to steer the wheels of development in Sinazongwe and improve the lives of the people.
The road sector is priority, and so is the health and education and his speech to attain these goals carries the zeal of a determined politician in his prime age.
Education
He has lined up a number of schools that need to be uplifted with houses for teachers and the refurbishment of existing ones and has already engaged the Ministry of Education to assist as well as utilising the Constituency Development Fund (CDF), to achieve this vision that will meet the needs of many a children seeking education.
Community Schools are earmarked for opening in Kafwambula area, at Mazuma Primary. Siatwinda area is also earmarked for a school to be constructed while in Sinanjola, the primary school that introduced the Parliamentarian to education also needs rehabilitation.
These are among several educational interventions he has in mind.
He laments though, that the lack of teacher accommodation in Sinazongwe, is a hurdle to attracting teachers to settle there but it is hoped that with improved and increased accommodation, the teaching fraternity will not shun these places let alone deny their services to the rural children.
"Pupils in my area walk long distances five to six kilometres to access their education and this should not be so as it breeds vices leading to these children, quitting school at an early stage, that is why we need more learning places in rural areas," he says.
Health
It is now a cliché that the health sector needs improving and Mr Siamunene observes that his area needs more health centres.
He says seven clinics will be an off-shoot of Government's programme to open up 650 health centres throughout the country and this will greatly benefit his people.
He adds that power connection is also vital to open up investment opportunities and that this has been the cry of the people.
He appeals to Zesco and the Zambezi River Authority to afford the people with electricity.
Adding to this, Mr Siamunene says the Rural Electrification has continued to play its part to link several areas to the power grid and Sinazongwe's Chiyabi area, among others, has not been left out.
Agriculture
The MP notes that rural industrialisation will help open various investments and that the Ministry of Agriculture is key in this aspect.
A fish training centre and a livestock breeding centre are scheduled to be revived and opened in Sinazongwe respectively. The fish centre will be for training for Southern African Development Community (SADC).
"The fish centre has been there but it has been a white elephant but the PF administration has seen that once operational, this can spur economic viability in this part of the country, so does the breeding centre.
"My people rear goats and there is a deliberate policy to bring in a new breed of boar goats to help improve the breed and this will be a source of income for people," he says.
Irrigation farming is another aspect area that needs exploring. With abundant river water, this can drive investment and boost other sectors such as tourism.
"The economy was crippled, I know this is a long journey but we have started with the critical areas such as roads, education, health and agriculture, which are key to unlocking the economic potential in Sinazongwe," Mr Siamunene says.
With coal mining activities being another hub of economic activity, he understands that this can be improved by setting up a Multi-Facility Economic Zone in Maamba so that coal mining can boost other industrial activities, as he feels that mineral exploration has not yet reached its fruition, hindered by a poor road network to carry out the necessary explorations.
Development in Sinazongwe, is neither far nor close as the right steps and vision are already in motion.
It is now up to Mr Siamunene and the electorate in the area to blend the two factors, like a local brew and enjoy the fruits of their labour.
For comments write to namusak@gmail.com