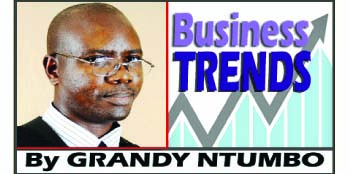 MANY people believe that successful entrepreneurship is an inborn trait, while others hold the view that entrepreneurship can be learnt and that success, is a decision.
Researchers propose that entrepreneurship can be learnt and is characterised more by hard work rather than idealism or impracticability.
The baseline survey report by the ministry of Commerce and Industry for emerging businesses for 2003 to 2004 supports the above proposition.
Results from the above survey revealed that entrepreneurs with tertiary education obtained profits that were disproportionately higher than their colleagues who had lower formal education.
The acquisition of higher education for subsequent application in entrepreneurship practice should be construed as hard work.
Entrepreneurial history shows that few people literally succeed to transform their businesses into large scale operational or manufacturing capability.
Additionally, Research also shows that people start business with various motives.
In Zambia, a number of people are pushed into business by circumstances while few pursue business for reasons of creating wealth for the benefit of the wider community of stakeholders.
Today, we look at classical entrepreneurship. We have used the term 'classical' to draw a thick and visible line between two groups of entrepreneurs and in order to avoid an over generalization of the term entrepreneur.
The Edinburgh Business School, Herriot Watt University (Scotland) describes entrepreneurship thus: "Entrepreneurship is thought to be a process of opportunity recognition followed by a plan to exploit the opportunity.
Thus, entrepreneurs and small-business owners both start off the same way. However, the entrepreneur succeeds at building an enterprise that soon outgrows the small-business.
He or she seizes growth opportunities, while the small-business owner easily plateaus in a niche and stays there.
Meanwhile, the entrepreneur remains restless and relentlessly, launches new products and spins off new organizations or subsequently acquires undervalued ones that will integrate with his business model"
To discuss this topic further, I would like to feature the outcome of the exclusive interview I had with Dangote Group of companies, President/Chief Executive Officer, Alhaji Aliko. Dangote.
We are grateful to the Dangote Group of Companies, Zambia and Nigeria for their generosity to allow us to tap into the compelling success story of Mr. Dangote.
We are also grateful to Edinburgh Business School for the special copyright permission to cite their entrepreneurial concept.
Hopefully, we will draw our inspiration from Mr. Dangote's business ingenuity and tenacity in order to foster a private sector driven- industrialization in our country.
Mr. Dangote owns a flourishing business empire and is ranked by Forbes magazine as one of the richest black African citizens in the world.
The Dangote Group is essentially a diversified and fully integrated conglomerate which spans into sectors such as cement production; sugar refining; flour milling; pasta production; sack manufacturing; salt production; port operations; and haulage.
Additionally, the group also has interests in oil and gas, real estate and other sectors of business.
Dangote currently has three subsidiaries listed on the Nigerian Stock Exchange (NSE). Dangote Cement Plc, Dangote Sugar Refinery Plc, and NASCON Plc.
These collectively account for about 25% of the market capitalization on the Nigerian Stock Exchange.
The Group currently has over 24,000 direct employees with Dangote Cement having a presence in eighteen African countries including the thermal electric powered $400 million plant in Ndola.
Contemporary authors suggest that entrepreneurship creates wealth by applying intellectual capital to the problem of creating new products and processes.
Intellectual capital is often a dynamic combination of people, ideas and technology, combined at the right time and in the right place.
This has been evident with Mr Dangote, as goes the Nigerian, Igbo saying "Looking at a king's mouth, one will not tell that he used to suck from his mother's breast"
We are referring to his humble beginnings, just like yours and mine, which he spurred into unimaginable serial successes to inspire Africa.
Mr Dangote's started business in 1978 with an initial loan capital of 500,000 Naira, which he got from his grandfather, Alhaji Sanusi Dantata.
Dangote's initial business focus was local commodities and building materials.
As I started thinking about this interview four months ago, I had two searching questions on my mind:
What inspires this serial entrepreneur to reach out to a wider community of stakeholders? And secondly, what lessons can we learn from his compelling story?
Mr Dangote believes that "when a country imports, it exports jobs to other countries, and it consequently imports poverty to the home country"
This paradigm mindset caused a major stir in his strategic direction.
What really motivated Mr Dangote's enormous success?
Horace (65 BC) a leading Roman Lyric Poet, once said "Adversity has the effect of eliciting opportunities, which in prosperous circumstances would lay dormant"
Nigeria in the 1980's faced high levels of poverty, low employment and a lot of imported goods coupled with high inflation.
Dangote's passion for his country and his burning desire to contribute to the transformation of Nigeria's economy through industrialisation was the driving force to his success.
At that time, Brazil like Nigeria, was facing significant economic challenges but still resolved to create jobs for her citizens and improve the country's economy.
He therefore decided to replicate the Brazilian insights on to his home country.
Additionally, Dangote identified the two main reasons why previous industrialists had failed: Nigeria was facing acute shortages of electric power generation and the inconsistency in government policies.
Therefore the company embarked on an import substitution strategy, and invested in the local manufacturing of the products that the country was importing into Nigeria.
He established Agrosacks, to the level of being the largest polypropylene bag manufacturing company in the world, producing 650 million bags per annum.
He wasn't pleased that Nigeria was at that time the largest importer of pasta from Italy, and consequently decided to manufacture pasta locally.
At the same time, Nigeria was the largest importer of sugar and therefore the Group erected 1.4 million metric tons per annum in Apapa, which is currently the second largest sugar refinery in the world.
Subsequent to having established the manufacturing capabilities, the group now had a onerous purpose of pursuing sustainable expansionary growth strategies.
As Pete Johnson, a British businessman puts it, "strategy is a style of thinking, a conscious and deliberate process, an intensive implementation system, the science of ensuring future success."
It is clear from our case study that the magnitude and direction of a classical entrepreneur's success is a well thought-out process and a result of intention and intense hard work.
Entrepreneurs should increasingly be motivated to look beyond setting up small firms and learn to pursue a restless passion to create wealth and contribute to the well being of a wider community of stakeholders.
Next week we will look at "Entrepreneurial Insights from the success story of Alhaji Aliko Dangote"
The author is the Managing consultant at G.N Grant Business Consultant, a fellow of the Association of Chartered Certified Accountants (ACCA), a Master of Business Administration (MBA) holder and a candidate for the Herriot Watt University (Scotland) Doctor of Business Administration (DBA).