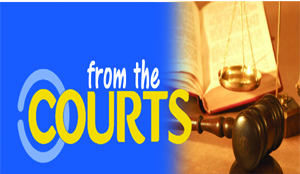 By RABECCA CHIPANTA –
THE Ndola High Court has convicted a junior pastor of Chingola's Evangelical Pentecostal Assemblies of God Ministries to five years imprisonment with hard labour for manslaughter.
This is in a case in which Floyd Pule, 32, of Flat 37B, Kitwe Road in Chingola's town centre was charged with the murder of his wife, Bahati Kabaghe, 26, a charge he denied.
Pule was facing a murder charge which was later reduced to manslaughter.
It is alleged that Pule, on February 10 last year in Chingola murdered his eight-month pregnant wife barely 10 months after their wedding.
During trial, a witness, Vanessa Kalumba, who was Pule's neighbour, narrated how she ran away on the fateful day when she found Kabaghe unconscious.
She told the court that she found Kabaghe naked and unconscious in her living room next to a subwoofer, which was stained with blood.
Kalumba said Pule then asked her if she could help to resuscitate his wife, but that she quickly rushed out of the house to inform her husband about what she had seen.
She testified that efforts to resuscitate Kabaghe failed and she was rushed to Nchanga South Hospital, where she was pronounced dead on arrival.
A pathologist from Kitwe Central Hospital who conducted the second post-mortem on April 15, 2015, told the court that the body had bruises in the middle and front part of the skull.
Sadkovaska Olga, 49, testified that this could have been caused by either a deliberate fall to the ground or as a result of being hit.
He told the court that the bruises in the middle part of the skull could not be caused by falling, but that Kabaghe could have been hit on the head.
Ndola High Court Judge Mary Mulanda found Pule guilty of manslaughter and sentenced him to five years in prison with hard labour, effective April 15, 2015.
Untidy woman divorced
By THANDIWE MOYO –
A THIRTY -YEAR-OLD man of Mandevu Township has divorced his wife because she does not know how to cook and is untidy.
Kelvin Mwape told the Matero local court that his wife, Chibemba Chulu, 25, of George Township did not know how to cook or do other domestic chores.
"My wife's food is either burnt or contains too much salt. I wonder what type of a woman she is. She is also very dirty and I always feel embarrassed each time I take my friends home since they laugh at me," he said.
Mwape sued Chulu for divorce after the two failed to resolve their marital disputes usually arising from poor hygiene.
He said his wife only swept the house on Saturdays and did not spread their bed on a daily basis.
Mwape explained that on several occasions he opted to eat from restaurants as he did not enjoy the food prepared by his wife.
"I would rather be single than staying with a woman who can't take care of me. I have tried sending her back to her parents for a month for her to learn how to keep the house neat and cook but all in vain," he said.
The duo got married in 2006 and have one child. Dowry was not paid.
Chulu in her defence told the court that she was also no longer interested in the marriage because her husband was so violent and at one time broke her hand.
She said due to her husband's beatings, she had scars on her body, making her look like a "thief".
Chulu said in addition, her husband had made her spend nights in the cold and yet she was the one paying rentals.
"I can't live with this man because he will end up killing me. Whenever we have an argument he beats me using anything he can lay his hands on," she said.
Magistrate Lewis Mumba, sitting with Pauline Newa, dismissed the case on grounds that dowry was not paid, hence it was not a legal marriage.
Teenager fined, faces defilement charge
By THANDIWE MOYO –
THE Matero Local Court has ordered a 19-year-old man to pay K15,000 for impregnating a minor.
A woman of George Township in Lusaka has demanded K30,000 as compensation from the young man who impregnated her daughter.
Angela Phiri, 40, sued the grade nine pupil of the same township for damage demanding K30,000 compensation.
Phiri told the court that Zulu had never provided any support from the time he impregnated her daughter until she gave birth.
She said he only bought a packet of diapers and one pack of cereal porridge.
"This man impregnated my daughter who is a pupil and I wanted her to go back to school after giving birth.
"This man has on several occasions beaten and undressed my daughter whenever she approaches him for support," she said.
Phiri said she wanted K30,000 as compensation as she had suffered to take care of her daughter and incurred expenses through paying her school fees and medical fees to enable her deliver through a caesarean.
But the teenager denied all the allegations levelled against him, saying he had been supporting his baby.
He said he provided porridge and diapers because those were the only things he could afford as he was also a school-going child.
He said he had taken responsibility of the child, but had asked his mother-in-law to reduce the amount charged as damages because it was too high.
In passing judgment, Magistrate Pauline Newa, sitting with Lewis Mumba, ordered the youngster to pay K15,000 and asked the police to arrest him for defilement.
Wife stops work to 'save' marriage
By THANDIWE MOYO –
A FORTY-EIGHT-YEAR-OLD man shocked a packed Kanyama Local court when he insisted that his wife should stop working if she was interested in him.
James Banda of John Laing Township said his wife should choose between work and her marriage.
Banda said it was pointless for his wife to work when he provided everything for her.
This is in a case where Banda sued his wife Chana Mwanga, 25, for divorce for refusing to stop work.
Banda told the court that the couple had been married for 10 years, but that problems started in February this year when he suspected his wife of having an affair with one of the superiors at her workplace, who used to call her at awkward hours.
He said Mwanga's superior sent her a text message in the night which prompted him to become suspicious.
Banda said he grabbed his wife's phone and sim cards to prevent her from communicating with her boss.
He narrated that he was shocked to discover that his wife had secretly replaced her sim card and that she was also promoted at work.
In defence, Mwanga said her husband was jealous and monitored her every move.
She said Banda had threatened to divorce her if she did not stop work.
Mwanga said to please her husband, she was willing to stop work because she felt marriage was more important than her job.
But Senior Court Magistrate Miyanda Banda wondered why Banda could be so jealous as to refuse his wife to work when it was for the benefit of the family.
"It is evident that you are insecure and don't want your wife to develop her life because you feel she might grow wings," he said.
In passing judgment, Magistrate Serah Nyendwa said she would not dissolve the marriage since Mwanga had given in to Banda's demands.
She, however, said the marriage would not last since there was no trust.
Adulterous wife sent packing
By THANDIWE MOYO-
A MAN has sued his wife for divorce after she committed adultery with a church elder of a church in 10 miles Farm area.
Danny Sikazwe, 37, of Zanimuone Township, sued  Brenda Chipuma, 25, of 10 miles on grounds that he found her  having sex with the elder in a bush.
The two got married in 2010 and have one child. Dowry was partially paid.
Problems started when Sikazwe started work as a truck driver in 2012.
Sikazwe said his wife usually visited her mother who resides in 10 Miles, where she is accused of having met her lover.
"My friends told me that my wife was dating the elder and I had a clue because I found the elder with my wife at my mother-in-law's house. They both looked frightened, so I just wondered what was going on between them," he said.
Sikazwe said it was a disturbing scene to see his wife naked with another man in a bush while he provided a bed for her at their matrimonial house.
He said after the scandal, he tried to forgive his wife but was further surprised when his mother-in-law told him that the family needed a rich man like the elder who could improve their lives economically.
He said his wife's sisters were all prostitutes and that Chipuma once told him that she could not have one man in her life.
"When we had a misunderstanding, my wife openly told me that she could not live with one man because he could not satisfy all her needs," he said.
Sikazwe said it was hard for him to live with his wife as he could not trust her since she continued visiting her sisters who were known prostitutes.
In defence, Chipuma said she had sex with the elder because her husband was usually out and that she needed love and finances which Sikazwe could not provide.
She said her husband would leave her for months and that she could not stay without a man since she was young and her sexual needs were high.
Chipuma added that she could not force her husband to live with her as he could not trust her anymore.
Magistrate Pauline Newa granted the couple divorce and ordered them to share all the property acquired together.
COURT SHORTS
Man fined for abusing ex-wife
THE Lusaka Local Court has ordered a 38-year-old man to pay his wife K12, 000 as compensation for abusing her during their marriage of eight years.
Magistrate Lewis Mumba, sitting with Pauline Newa, granted the couple divorce and ordered them to share property acquired together.
Mercy Mwesa, 33, asked the court to divorce them on grounds that her husband, Alex Mwanza was abusing her after he decided to marry another woman who was their neighbour.
Hubby caught 'pants down'
A LUSAKA wife has divorced her husband after finding him having sex with an elderly woman in an unfinished building despite denying her sex for six months claiming he was always tired after work.
Grace Mweemba, 25, sued her husband, Henry Muyola, 30, of the same area after the couple failed to resolve their marital disputes.
In passing judgment, magistrate Daniel Phiri, sitting with magistrate Ackim Phiri, annulled the marriage and ordered the couple to share all their property.