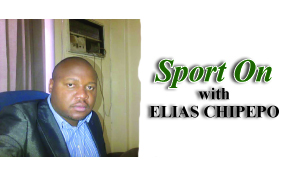 IT is becoming increasingly difficult to understand and believe that one Andrew Kamanga is really in full control of the Football Association of Zambia (FAZ).
Most people who understand the FAZ constitution will agree with me that one Kamanga is yet to fully take charge of the association.
Why do I assume so? This is because of the happenings in the executive committee that shows that Kamanga is yet to know the powers he posses as FAZ president.
Clearly, the man is probably trying to please a few individuals or he is scared of the unknown at the expense of flauting the constitution.
I know Kamanga is one individual who has great respect for the FAZ constitution but seems like his principles are being trampled upon or maybe most if his executive committee members are blackmailing him in the name of being an 'unpopular president'.
Never in my few years of sports reporting have I ever heard a vice president of FAZ calling for an executive committee meeting…well, maybe its a new clause in the constitution.
A vice president issuing a statement of behalf of the association when the president and acting general secretary are very much available? quite strange.
Anyway, all this was as a result of the rumour that Kamanga had appointed Simataa Simataa as his general secretary.
I was so shocked with the reaction from some FAZ executive committee members to a media report that wasn't even made official by Kamanga himself.
But that aside, even if it were true I know from my little knowledge of the FAZ constitution that the president has the powers to propose the general secretary.
Mind you, the FAZ constitution gives too much powers to the president and the earlier people in the executive realise, the better for all of them.
It was quite interesting to read the comments from former FAZ president Teddy Mulonga and former executive committee member, Pivoty
Simwanza, on their thoughts about the current happenings in FAZ specifically the issue of the general secretary.
Everyone knows that Kamanga's preferred choice for general secretary is his right hand man Simataa.
It is also an open secret that Kamanga has his own choice and so do the opposing executive members who have vowed to fight their president's choice tooth and nail and ensure their preferred choice (never mind the name) takes charge of that very sensitive office at Football House.
From Mulonga and Simwanza's sentiments, it is difficult to understand how Kamanga can continue to claim he still has powers to propose a general secretary by advertising the position.
I thought FAZ was in a hurry to appoint a chief executive officer and get down to serious work that includes appointment of Chipolopolo coach as well as coming up with a plan to save our collapsing bid of qualifying for the Gabon 2017 Africa Cup of Nations finals.
The decision to advertise and appoint Mr Katongo Kabungo, with due respect, is a draw back in progressing forward. It is becoming boring when candidates make certain promises but fail to live by them when in power.
Really, I am beginning to think the FAZ president has either been compromised or defeated, he is not showing his muscle at all or maybe he has gotten wind of a looming impeachment scheme that has compelled him to bow down to the so called majority.
Kamanga should right away realize his role and authority he posses as president to spearhead the many developmental projects he promised in his campaigns.
I have my own reservations on the executive committee meeting that resolved to appoint Kabungo to act as general secretary while the position is being advertised.
Honestly speaking, Kamanga should not bow down to mediocrity but use his authority and power to put people where they rightfully belong.
Anarchy in football should not be condoned.
Wishing you a wonderful sporting weekend and remember to interact on eliaschipepo@gmail.com or elias.chipepo@times.co.zm and on twitter @eliaschipepo.