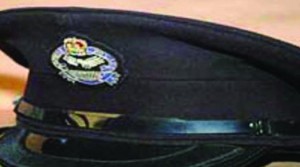 By MOFFAT CHAZINGWA, REBECCA MUSHOTA and XAVIER MANCHISHI –
TWO hundred police officers have been deployed at Kasumbalesa border post to enhance security following the recent killings of truck drivers.
Home Affairs Minister Ngosa Simbyakula said another platoon of police officers would soon be deployed to the area to ensure safety at the border.
Dr Simbyakula this in a statement released by Home Affairs spokesperson Moses Siwali and monitored on the Zambia National Broadcasting Corporation main news last evening.
He said the porous nature of the border had contributed to recent killing of truck drivers.
Meanwhile authorities at Kasumbalesa Border Post in Chililabombwe have extended working hours from the closing time of 18:00 hours to 20:00 hours to decongest the marooned trucks from both sides of the border.
This follows the boycott by international drivers to cross into the Democratic Republic of Congo  (DRC)recently.
And border post authorities have strictly enforced the law compelling Congolese nationals crossing into the country to use the designated border post entry point.
Zambia Revenue Authority (ZRA) Kasumbalesa station manager Levy Simatimbe said in an interview yesterday the situation at the border post had normalised although there were still hundreds trucks waiting to cross into and from the DRC.
"The queue for trucks destined for DRC is now stretching a distance all the way to Chililabombwe Town and we are told that trucks lined up in the DRC border side trying to cross into Zambia have equally formed a long queue that side," he said.
Mr Simatimbe said it was in this vein that the authorities had extended the operation hours at the border post with work starting at 08:00 hours going up to 20:00 hours to try to fast-track the movement of trucks into and from DRC.
He was, however, not in position to give the number of trucks that had to date crossed into and from DRC since last week on Wednesday when international truck drivers resumed crossing into DRC following their boycott sparked by the brutal killing of their colleague in that country.
And acting Copperbelt Police chief Joyce Kasosa said police had tightened up security around the border post area so as to curb influx of Congolese nationals who were using illegal border entry points to cross into the country.
Ms Kasosa said the security wings had now sealed the illegal border entry points that were being used by Congolese to cross into the country without documents.
"All Congolese nationals crossing into the country are now lining up and getting passes for entry into Zambia unlike before when the majority of them would use non-designated border entry points," Ms Kasosa said.
She said investigations into the shooting to death of a Zimbabwean truck driver by unknown people were still ongoing even after the apprehending of a woman in connection with the matter.
And international truck drivers' representative, Stanley Muluka said he was happy that there was positive follow up on the issues that they had raised regarding improving their safety and security at the border post.
Mr Muluka said most of the drivers' concerns over issues of safety and security at the border were being vigorously attended to. However, the drivers  wanted a parking bay to be set up in Chililabombwe town where  they  could park their vehicles while awaiting  border clearance.
In another development, Foreign Affairs minister Wylbur Simuusa has said the killing of drivers at Kasumbalesa has not strained the relationship between Zambia and the DRC.
Mr Simuusa said the Southern African Development Community (SADC) has since demanded for a report from DRC through its minister of Transport since it is the sector that has been hit by the killings.
"I want to re-affirm that the relationship between Zambia and Congo is still cordial and these incidences are isolated," Mr Simuusa said in an interview yesterday.
Mr Simuusa echoed President Michael Sata's call for citizens to remain calm while Government uses diplomatic channels to resolve the problem to its logical conclusion.
"The Congolese are our brothers with a lot of inter-marriages between the peoples of the two countries so there is no need to start fighting," he added.