By RABECCA CHIPANTA –
THE Tanzania Zambia Railway Authority (TAZARA) has agreed with trade unions representing the workers to adjust salary exchange rates for Tanzanian and Zambian workers.
This follows a week-long work stoppage on the Zambian side earlier this year at which unionised workers demanded for the adjustment of the salary exchange rates.
TAZARA public relations manager Conrad Simuchile said in a statement that the adjustment of salary exchange rate was with effect from yesterday, following meetings held last week.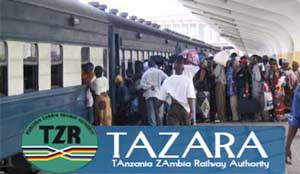 Mr Simuchile said negotiations had been going on for one month before the consensus was mutually agreed upon between management and all the four trade unions.
The unions are Tanzania Railway Workers Union (TRAWU), TAZARA Workers Union – Tanzania (TAWUTA) representing workers in Tanzania, Crews and Allied Workers Union of Zambia (CRAWUZ) and Workers Union of TAZARA (WUTAZ) representing workers in Zambia.
"Under the agreement, which forms an addendum to the 2015-2017 collective agreement between the management of TAZARA and its four trade unions, the Authority will adjust the exchange rates upon which the salaries are based upwards, to achieve parity of remunerations between the workers in Tanzania and Zambia," he said.
TAZRA deputy managing director Betram Kiswaga said it was gratifying to note that the atmosphere that existed during the negotiations reflected the desire by both parties to maintain stability in the institution.
"We have achieved some positive milestones in our operations in the recent past and it is very encouraging to note that both parties are determined to keep the momentum going through stability and continuity," Dr Kiswaga said.
Dr Kiswaga said it made good business sense that the organisation strived to maintain stability at this stage when its customers were showing renewed confidence in its operations.
Mr Simuchile said in order to achieve parity between the remunerations of workers in Tanzania and Zambia, the salaries were denominated in United States Dollars, but paid in local currencies at exchange rates that were agreed upon with the unions periodically.
He said over the years, the local currencies had depreciated significantly against the dollar, but the exchange rates could not be adjusted proportionately due to liquidity challenges, which the authority had been facing.