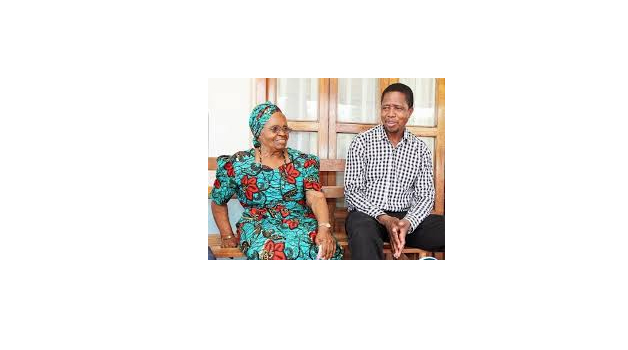 By NDUBI MVULA –
PRESIDENT Edgar Lungu has described the late freedom fighter Mama Salome Chilufya Besa Kapwepwe who was put to rest yesterday in Chinsali as a true patriot who served her family and country with a deep sense of commitment, passion and unconditional love.
President Lungu, who joined thousands of mourners drawn from all parts of the country, to mourn the widow of the former Republican Vice President late Simon Mwansa Kapwepwe was speaking in Chinsali during the burial of Mama Salome at the family resting place.
"That is the kind of heritage we must celebrate as younger generations. Mama Salome and the gallant women and men of her generation have left us this good example that public service must be about a commitment to god, family and country!" he said.
President Lungu said Mama Salome belonged to the great and golden generation of selfless individuals who gave their whole to the cause of mother Zambia.
He said when he last visited Mama Salome who died at 90, the visit gave him an opportunity to appreciate how much she cared about the country and what she stood for adding that her values and beliefs were in everything she did.
He said during the liberation struggle, Mama Salome showed deep devotion, sacrifice and endured pain, performed endless and selfless acts towards others and exhibited great fortitude in times of hardship.
"Therefore, Mama Salome Kapwepwe occupies a special place in the politics of Zambia. In recognition of her immense sacrifice and contribution to the independence struggle of our country, in 2014, government honoured her with the order of the grand companion of freedom, first division," he said.
He further said the life of Mama Salome was exemplified by her selfless generosity and uncompromising belief and commitment to her family, friends, neighbours, community and the country while to many, the young and old, she was a mother, mentor and counsellor.
"The multitude of people who have come to bid farewell to this great daughter of our nation is a testimony to what she stood for and shared with all of us gathered here.  In our midst, we are honoured by the presence of our founding father, Dr Kenneth David Kaunda, the Fourth President, Mr Rupiah Banda and other freedom fighters who have travelled from different places to be part of the celebration of this great life we are bidding farewell to," he said.
He said the lessons that should be drawn from the life of mama Salome points to all Zambians to aspire to be patriotic and selfless as exhibited by her generation which was a generation of struggle, sacrifice and flawless commitment to patriotism.
He has since called on Zambians not to take their freedoms and civil responsibilities for granted, as it would be a betrayal of the enormous sacrifices made so that all can be a free people.
President Lungu said all Zambians have the responsibility to protect the legacy of the most outstanding personalities of pre-independnece Zambia, as they made profound and remarkable contributions to the nation.