IN last week's article, we looked at the recent cyber attacks and Information technology (IT) failures that grappled the United Kingdom's National Health System (NHS) and British Airways (BA) operations.
This resulted into 40 NHS trusts being hit by a malware virus, while 70,000 BA passengers worldwide, were stranded due to an alleged computer power outage.
Our focus wasn't just on the two incidents, but we took the view that the above incidents were only symptomatic of the root causes: managerial inertia and strategy boobs!
We have been taken back to the mid 1990's, when the corporate world was first fraught with unprecedented number of similar high-profile preventable incidents, which gobbled enormous sums of resources.
Hopefully, by the end of this article, it will be clearer on why we need to create corporate organisations that are able to appropriately use their expertise to institutionalise corporate learning from available knowledge, skills, technology and experience.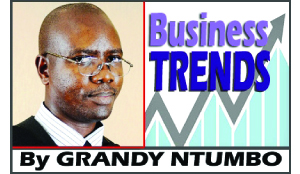 Apart from the NHS and BA incidents, we had two other notable ones in TESCO and General Motors, three years ago.
It's disheartening to learn that Britain's biggest grocer—and the world's third-largest retailer, TESCO, by September 2014, admitted that it had overstated its profits by £250 million, which its auditors PriceWaterHouseCoopers (PWC) failed to detect?
Additionally, it is equally disgracing to learn that among the 10 main board directors in TESCO, none of them had any executive experience as a retailer whatsoever.
General Motors (GM) too, in early 2014, woke the world to another rude shock when it recalled 3.1 million consumer vehicles that were discovered to be faulty and were estimated to result in a charge of $300 million.
What was particularly shocking about General Motors was that the company boasted of a robust Enterprise Risk Management (ERM) program that was showcased by global by global experts.
Essentially, a robust ERM enhances a company to holistically and proactively look at risk from a strategic and enterprise level, in a variety of areas, including strategy, finance, and operations and effectively put systems in place to identify, classify risks and take appropriate action.
Unfortunately, GM misclassified a major risk as insignificant and consequently took wrong actions.
In our local scene, our companies too, have had a fair share of such strategic boobs.
It's been heartbreaking to see long time corporations being overtaken by new comers on the business competitive environment.
New companies have been managing to arrive on our scenes, develop strategies, gain market share, while old timers have watched until when it's late to develop "me too strategies."
At the time of the advent of the Global System for Mobile communications (GSM) Zamtel had to wait for Airtel and Celtel then, to launch the technology, finally did it, ran out of "network SIM's" for some time, while Airtel ravaged on!
Instead of being a market leader and enjoying first mover advantage, Zamtel's indecisiveness appears to have limited its competitive strategy choices to the undesirable price war scenario which has been raging on in the sector!
Corporate leaders must always bear in mind that decisions that they make today will ultimately have an impact on them and their undertakings, many years later.
The GSM issue occurred 15 years ago, but after such a long time down the line, we have a fierce price war that both industry players don't seem to have a long term sustainable solutions to.
"Such experience shows us that large, complex, local and global companies, don't just fail with just one dumb strategic boob, there has to be many, cascading decisions that accumulate to erode a company's competitive position."
Do we have a long term sustainable solution in sight?
Oh yes, we do.
Medical and conventional wisdom holds that, just as the antidote for a snake bite lies in its very venom, and so does the solution to every problem lie in the very problem.
A robust corporate board doesn't just have to fill numbers to obtain quorums in meetings, but must have the right mix of people, with appropriate expertise, experience and proper training.
This inevitably helps to provide an honest and realistic perspective that critiques company's strategies, review of risk management and an understanding of management's sophistication.
Imagine, with all the competition and eagerness to run knowledge based corporations and economies; the corporate world has had such mediocrity at such helms of corporate governance!
The Association of Chartered Certified Accountants (ACCA) for example, admonishes accounting practitioners to develop a deliberate mindset that purposely acts consistently with what they profess.
Given such findings, leaders should strive to deepen their understanding of the kinds of industry, customers, and team experiences that affect their operating environments.
They should then use this information to develop employees, track their experience portfolios, and deploy them strategically.
Companies inevitably have to change their enterprise systems, analytics capabilities, and staffing models not just by the letter but also follow it by the spirit of the letter.
Unlike the infamous GM incident, the company was not as adept at spotting, assessing and mitigating risks as it artificially portrayed to be!
This was evident when 3.1 million consumer vehicles were discovered to be faulty.
While it was preaching and taking pride in the goals and objectives of the ERM programme, the corporate culture was not consistent with promoting and embedding risk awareness.
The corporate world has all that it takes to avert strategy boobs and consequently develop learning business organisations.
This calls for corporate leaders and all professionals taking diligent responsibility for their actions.
For comments e-mail: ntumbograndy@yahoo.com Mobile +260977403113 +260955403113
The author is the managing consultant at GN Grant Business Consultant, a fellow of the Zambia Institute of Chartered Accountants (ZICA) and the Association of Chartered Certified Accountants (ACCA), a Master of Business Administration (MBA) holder and a candidate for the Herriot Watt University (Scotland) Doctor of Business Administration (DBA).