Published On June 21, 2017 » 3125 Views»
Features
By MARTIN NYIRENDA
WOMEN are possessed with the passion of change in the astute lives of communities and the world, something that cultivates a sharp-witted life where society has to determine itself.
In Zambia and elsewhere, agriculture is one of the chief engines of sustainable national development, an ingredient of poverty reduction at household level.
Today the Government is frantically eyeing economic platforms that bubble with elements that catapult the sector into the mainstay of the lives of the locals.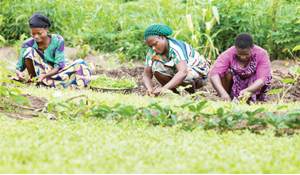 That is the rationale behind giant strides to ensure the agriculture sector in the country awakens from the painful yet deep slumber of underperformance which is roundly due to the withdrawal of reduced active participation, of even more women, in the sector which effectively constrains national productivity.
A look at the aggregate data shows that women embrace about 43 per cent of the agricultural labour force globally in the sector which brings in the importance of calls for women to be offered 50 per cent of the available land on the market in Zambia.
Verónica Michelle Bachelet Jeria, a Chilean politician made headlines after going on record, contending that when women are empowered and are able to claim their rights and access to land, leadership, opportunities and choices, the economies grow, food security is enhanced and prospects are improved for current and future generations.
Thus, views espoused by Vice President Inonge Wina are already loud enough as they remind society of her timely call for women empowerment by sharing life skills with them to simplify their lives.
Evidence magnifies that women use agriculture even in the tide of the labour burden of rural women exceeding strides of men. This is the case of some women reaping unpaid household responsibilities related to preparing food and collecting firewood and water.
One will demand the justification of the contribution of women to agricultural and food production which is significant because it is impossible to empirically verify why women remain the spine of economic growth in many existing forms.
For instance, women's participation in rural labour markets varies considerably across regions, but invariably women share the worst burden in the societal survival – they simply over-signified in their own unpaid dues for work done.
You may wonder why in some not too isolated cases across any array of industries, women are often paid less than men, for the same work done.
Studies on rural and agricultural feminisation shows that this is not a general trend but a mainly African phenomena.
At the heels of this scenario, Vice President Wina believes to the tooth that women have the stamina to add positively to national development agenda, but they need the desired policy support to fire up the national economic diversification programme.
Ms Wina makes sweeping remarks on the need to equip women in apparent reference to a certain Chisomo Chamulungu Women's Club, which imparts women with skills in industrial knitting, catering and tailoring.
"I have seen how productive and active women have been as can be seen from the products exhibited," she begins.
"This is a clear sign that with the necessary support, either financially or materially, the women are able to contribute positively to the development of our country, both at community and national levels."
That observation underscores the reality that women remain the vertebrae of the development of rural and national economies as they comprise 43 per cent of the world's agricultural labor force, which rises to 70 per cent in some countries.
In Africa, 80 per cent of the agricultural production comes from small-scale farmers, who are mostly rural women. Women comprise the largest percentage of the workforce in the agricultural sector, but do not have access and control over land and productive resources.
During the last ten years, many African countries have adopted new land laws in order to strengthen women's land ownership rights. This has helped improve the situation of rural women.
And Government has taken the same path to realise that failure to acknowledge the role of rural women in agriculture is injurious and gives rise to poor yet specific empowerment policies – policies which are misdirected, breeding high levels of poverty, illiteracy and non-involvement in the design and planning of programmes and policies.
Designing and planning of programmes and policies engross a process of mutual learning that reflects the real and specific needs of women, especially those in rural communities.
Despite the principal roles they play in agricultural economies, rural women suffer from the highest illiteracy rates and are the most visible face of sheer poverty.
Women guarantee positive livelihoods, especially in rural areas. Their giant strides in food production continues to ignite the oath for their own self-sustenance.
But there appears a lot still needs to be done to make meaning of women empowerment.
For them to take up their rightful positions in the development process in society, they need quality access to health care, education of their children, access to land and basic social services.
To make sense, they need not trek long distances to fetch for water and firewood for domestic application.
When the significant role of women sinks down to basic reason, there is need to endorse the magnitude of women in economic development.
In a case, some social customs dictate that women, especially rural women, should – in addition to agricultural activities be responsible for cooking, carrying water and fetching firewood, limiting their participation in decision-making processes and their exposure to those economic opportunities.
A Ndola-based traditional councillor, Charles Mulopwe says some cultures increase the rank of inequality vis-à-vis their partners.
"Women need more investment to certify increased food production. In one way, women can also help fight hunger and malnutrition especially when they have higher income and better living conditions, which invariably extends to uplift rural women who practice small-scale agriculture.
"As you empower women, consider their role in the agriculture sector and the available weaknesses of production, disposal, and preservation, processing and marketing of agricultural products," the Food and Agriculture Organisation (FAO) study puts it on record.
Government is aware that there is need to create favourable conditions in agricultural areas, including the reinforcement of road networksfor the transportation of produce from production areas where rural women work, as well as the processing and commercialisation of such products.
A number of giant initiatives are currently being implemented, including provision of certain public goods, such as extension services, storage facilities, rural infrastructure (roads, electricity, and information and communication technologies), access to markets and access to credit, as well as supporting farmer cooperatives.
Viable policies are also being crafted to create a favorable mirror for women so that society can take advantage of their obtainable roles of being producers of wealth and strengthening the social economic fibre.
Governments have a key role to play in further supporting the access to land, water and seeds by rural women who are involved in small-scale agriculture.
Ms Wina's support to women empowerment and economic support is slowly, yes, slowly breaking the vicious cycle that leads to rural poverty and to the expansion of slums in the cities, where the poor get poorer.
As one of the voices of epicenter women, Royce Kupela, warms up her argument with the contention that special attention to the social skills of women both
within and without agriculture sector is cardinal to ensure the national prosperity.
Ms Kupela argues that it is paramount to set up policies that benefit women, adding that policies should offer the historical economic, political and socio-political learning tools for prosperity for women.
Kamalondo Mwewa, a Ndola social commentator, quips during the survey by this author that women should be availed the platform to participate in socio-economic policies and programmes formulation for them to be part of the the beneficiary factor in the process of the women empowerment scheme.
Ms Mwewa goes on: "It is necessary to provide support to the women agenda so that they take up their rightful positions in society."
Like a host of other young women, in their formative stages of life, Ms Mwewa points out that women are involved in the conception of development programmes at community levels.
Kaluti Ngoma, a Lyanshya resident, pleads with relevant authorities to deliberate formulate policies to empower young women set up enterprises to showcase their business abilities that could add value to improving the safety of society.
Lest we pretend to be modest to ignore that women are endowed with the passion of change in the astute lives of communities.