LAST Tuesday, the Association of Chartered Certified Accountants (ACCA) Zambia held its new and fellow members' reception at Lusaka Hotel Intercontinental.
The new members who had met the requirements for admission to associate membership were being welcome, while a number of associates were upgraded to fellow membership.
During the same event, I was honoured to have been among deserving members of the association who received awards for contributions in various ways to society and the economy.
Essentially, ACCA Zambia was created in May 2001 and is the global body's representative and has a membership of over 60 per cent of professional accountants in Zambia.
One may ask that are professional accountancy bodies like ACCA, any more relevant in our economy and individual lives, beyond setting accountancy examinations?
Oh yes, they are!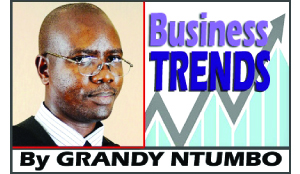 In fact, the association through its public interest unit promotes appropriate regulation of the profession and conducts relevant research to support members, businesses and national economies
globally.
Additionally, the association also promotes governance and the growth of the capital markets.
This has been exemplified by the signing of strategic partnerships with the Lusaka Securities Exchange, the Institute of Directors and the Zambia Chamber of Small and Medium Business Associations (ZCSMBA) to support development causes.
Over the years, ACCA members globally and locally, have been participating in championing various development initiatives in society such as contributing to Small and Medium Enterprises (SME) development, enhancing governance, accountability and transparency, economic development, taxation, audit as well as the development of accountancy and accounting education.
Therefore, the Global ACCA office felt it was imperative that the contribution of its members to national development, in various ways, other than just their formal work, be acknowledged through the introduction of awards to deserving members.
Finance Minister, Felix Mutati was awarded as the overall national advocacy of the year winner, owing to his consistent efforts to contribute to national development and the accountancy profession.
It was noted that even before he was appointed to his current role last year, he was consistently supporting the profession.
Hastings Mtine was voted the joint winner in the lead category together with Mr Mutati; while Edward Kabwe was voted winner in sustain category and I got the runner-up award.
Dr Kelvin Kayombo won in the development category while Brigitte Muyenga got the runner-up prize.
Kingford Kalobi got the attraction category while Peggy Kaponda Banda emerged as runner up.
ACCA Zambia head Mukaba Mukaba informed the audience of the positive global indicators of economic recovery based on the global survey conducted by the ACCA.
Finance Minister Felix Mutati could not miss the opportunity to inform the audience too, of the improvements in the country's economic outlook, which according to him, has necessitated independent monetary organization's to revise Zambia's national economic growth projections from 3.3 to 4.3 per cent for this year.
Mr Mutati reiterated the call for ACCA members to keep abreast of a number of developments affecting the globe and consequently, every professional accountant.
He says effect of political, social and economic change can never be over-emphasized, in today's business world, owing to the globalization and ever growing interrelationships and interconnectivity of individuals and businesses.
Indeed, such changes most often times, affects decisions of resource allocation, direction setting and nurturing change, which thankfully, all fall within the professional accountant's core roles.
Which changes is Mr. Mutati referring to?
He is obviously referring to significant changes in the political scenario, such as in Europe and United States of America (USA) like the new US administration of "America First policy", the Brexit impact on Europe.
On the other hand, in Europe, the Members of European Union Parliament (MEPS) are making strides to enact anti- tax avoidance and evasion laws.
African leaders are increasingly getting concerned of the continuity of the AGOA   under the new US administration, which has indicated that Africa will not be a priority in the current administration's trade and foreign policy.
The AGOA was essentially enacted in 2000 by President Clinton and essentially allows sub-Saharan African countries to export thousands of goods to the US on a duty-free basis.
Media reports reveal that the six-nation member east African community comprising Kenya, Uganda, Rwanda, Burundi, Tanzania and South Sudan will fully ban imported second-hand clothes and shoes from the US by 2019 to boost their individual domestic clothes manufacturing industries.
"While it's American first agenda for the new US administration, on the other hand it's been East Africa first".
That's a bold and interesting step.  Isn't it?
Indeed it is!
In any case, this goes to exemplify the economic consequences of a number of global trends and that have an effect on resource allocation, strategic direction setting, and nurturing of change.
It is clear that professional bodies such as the ACCA and its members are making contributions to nurture the skill sets of professional accountants in order to manage business and economic environments that are continuously being affected by global changes.
For comments e-mail: ntumbograndy@yahoo.com Mobile +260977403113 +260955403113
The author is the managing consultant at GN Grant Business Consultant, a fellow of the Zambia Institute of Chartered Accountants (ZICA) and the Association of Chartered Certified Accountants (ACCA), a Master of Business Administration (MBA) holder and a candidate for the Herriot Watt University (Scotland) Doctor of Business Administration (DBA).