By CHILA NAMAIKO –
CABINET has approved the restructuring of the University of Zambia (UNZA) into separate, specialised  colleges .
The university colleges will be defined under the following faculties: Medicine, Education, Agriculture and Veterinary medicine, Engineering, Mines and Minerals, and Humanities and Arts.
Announcing the major Cabinet decisions made at its 13th sitting at State House on Monday this week, Chief Government spokesperson Kampamba Mulenga said the Government decided to restructure UNZA to improve efficiency and effectiveness in the operations of the institution.
Ms Mulenga, who is Information and Broadcasting Services Minister, said that the action was provided for under the Higher Education Act No. Four of 2013 part three of section 13.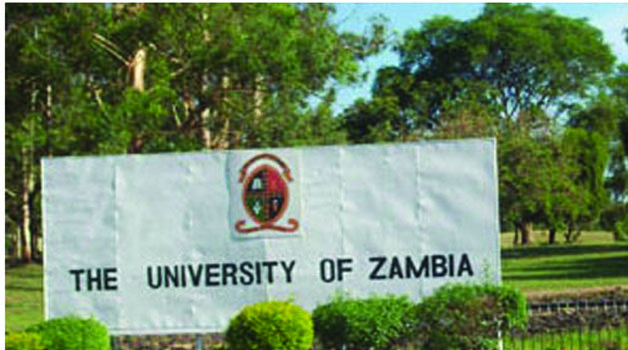 "UNZA has become inefficient in its management to due to its current size," Ms Mulenga said.
She said this had resulted in operational challenges, accumulating huge debts, inadequate staff and infrastructure as well as perennial strikes by lecturers and students.
This, she said, had compromised the quality of education at the institution.
She said that, in terms of population of students, UNZA had 23,000, while the Copperbelt University had 12,041 while Mulungushi University had 4,830 students.
On the new financing strategy for universities, Ms Mulenga said the Government would ensure debt sustainability to the three institutions.
Government would liquidate both the statutory as well personal debt owed by the three institutions.
She said the environment for higher learning was becoming a challenge, coupled with the growth of national population.
Following the decision by Cabinet, Higher Education Minister Nkandu Luo is expected to soon publish the full major reforms that Government would undertake in this respect.
Ms Mulenga added that the Cabinet also approved recommendations to amend the Petroleum Exploration and Production Act in order to increase investment in the sector to spur national development.
She said when President Edgar Lungu launched the oil exploration by Tullow Company in Kasama, he promised to look, among other factors, into ways to attract more investment.
She also said Cabinet was of the view that the participation of the private sector in Indeni Petroleum would increase the supply of petroleum.
The briefing was attended by Health Minister Chitalu Chilufya, Special Assistant to the President for Press and Public relations Amos Chanda and Information and Broadcasting Permanent Secretary Godfrey Malama.