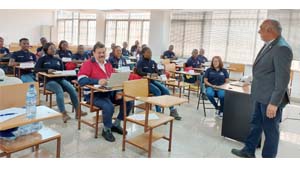 By MUSONDA MANGILASHI
IN an effort to supplement the increase in local skilled workforce in the country, Dangote Cement Zambia is currently training 25 graduate trainees at its plant on the Copperbelt.
Dangote Cement Zambia country head and chief executive officer Vipul Agrawal said the graduate trainee programme was a transformation initiative aimed at nurturing young talent and shaping the next generation of leaders in the manufacturing sector in the country.
Mr Agrawal said the essence of the training of the graduates was to help Zambia have local skilled personnel specifically trained in the cement manufacturing industry like Dangote Cement.
He said the company received more than 1300 applicants across the country from Zambian's top learning institutions and after intensive selections 25 graduates in engineering and business were picked to undergo one year six months training before they were permanently employed.
He explained that the company also decided to have the graduates trained because the plant f needed to have skilled Zambians to run the company which had the advanced cement high and sophisticated machines.
"The graduate trainee programme is a testament to the organization's commitment to investing in the development of fresh graduates in Zambia. This is meant to provide integrated learning, mentorship and guidance, hands-on experience, innovation and sustainable and professional networking.
"The programme aims to equip participants with skills and knowledge required to excel in the dynamic and challenging environment of cement manufacturing," he said.
Mr Agrawal said the trainees were currently on a one month master class before they were subjected to departmental rotation exercise to have got the hands-on environment.
"Our desire as Dangote is to invest in people. This is why we have been conducting this trainee programme since 2015. The essence is to stop Zambia from importing expatriates in this specific cement manufacturing industry and start exporting to other countries citing one employee Mutemwa Mwanzila as a success story," he said.
Mr Mwanzila joined Dangote Cement Zambia in 2016 as a young graduate and had risen through the ranks to become product engineer.
He has been appointed to go to Ghana next month as an expatriate to supervise at the new plant that has been set up there.