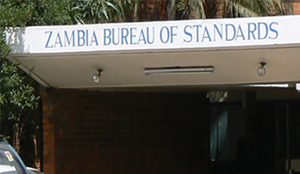 By JAMES KUNDA –
THE Zambia Bureau of Standards (ZABS) has opened new offices in the provincial capitals of Southern, Eastern and Northern Provinces.
The move is aimed at enhancing and localising market surveillances, routine inspections and promotion of issues of standardisation.
Head of marketing and public relations Hazel Zulu said in a statement that ZABS would also open offices in Copperbelt, Muchinga and Western Provinces in the next few weeks.
"This is in a bid to enhance and localise market surveillances, routine inspections and promote issues of standardisation in the areas where such services were not readily available," she said.
Ms Zulu said ZABS wanted to enhance the public's ability to access its services and this would be coupled with the provision of technical support to Micro Small and Medium Enterprises (MSME's) in the value chain clusters that have been launched by the Citizen Economic Empowerment Commission (CEEC).
"Many more people will be able to tap into the various services we provide and receive responses in real time," Ms Zulu said.
She said ZABS had a role of ensuring that the quality of the goods produced locally or imported met or exceed the required Zambian Standard.
This, she said, would in turn help the concerned MSMEs to develop products that met the required Zambian standard.
"We would like to inform MSMEs in the areas where we are operating and other stakeholders to begin to utilise these services that have been taken to their doorstep," she said.