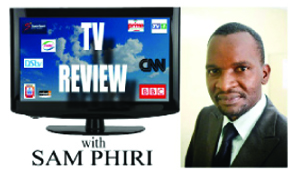 HATS off to ZNBC for honouring the nonagenarian iconic founding father Kenneth Kaunda by airing a documentary 'Man from Lubwa (Kaunda early years)' which rekindled  memories of viewers when it was shown on Tuesday at 12: 00 hours and at 10:30 on Friday.
The documentary was beamed on an appropriate day since it was Dr Kaunda's 92nd birthday anniversary that fell on Tuesday 28th last week.
As a national broadcaster of ZNBC should have such high calibre documentaries from time to time.
I took a break from the keyboard and got glued to the television at the office to watch a documentary apparently, that was well publicised the previous night on ZNBC.
The documentary researched, written and directed by our own staff Austin Kaluba, with camera by Brian Malama recalled early days of Dr Kenneth Kaunda, highlighting some interesting hidden facts about Zambia's founding father.
Narration done by Bernadette Chibamba, a former BBC reporter was crystal revealing facts about Kaunda's early years in Chinsali, death of his father when the lad was only aged 8, his sojourn to Tanzania and Zimbabwe, colour bar, courtship of his wife, the late Betty Mutinke Banda, embracing of Mahatma Ghandi's teachings, break up with Harry Nkumbula and ascendancy to the presidency.
The documentary employed several archival shots from both ZNBC and ZANIS especially the end when Kaunda is shown clad in a kenteon Independence Day with the British national anthem 'God Save The Queen' playing and fading into the Zambia national anthem.
Who wouldn't want to watch a well-researched documentary of this great man? He is one of Africa's legends only equated to the likes of late South African President Nelson Mandela.
I would once more like to commend ZNBC for heeding to this platform's advice of promoting such interesting and rare programmes.
The only lacuna is if it wasn't for the promo, many viewers could have missed such an important documentary since it was shown at (12:00) on a working day.
I am suggesting a repeat with more massive promos that would do justice to the man who has defined Zambia.
Having made this observation, I am imploring ZNBC and other stations like Zambezi Magic to promote documentaries of such nature because from this platform's observation, documentaries are well-followed.
It is only two weeks ago when someone requested for a repeat of Katwishi Bwalya's Israel documentary.
Ardent followers of this column would agree that last year Luckson Nthani and Angela Limwanya also had a documentary called the 'Legendary Landscape' which was repeated more than three times due to popular demand.
This clearly shows the direction of people's interest such that broadcasters like Zambezi Magic on DStv, ZNBC, Muvi TV and Prime TV should invest in such ventures as they are not only entertaining but highly informative and educative.
Coming to the documentary under review, one would simply describe it as highly educative and interesting as it takes us back to days before the liberation struggle.
Looking at historical relics of Dr Kaunda's life in the documentary, one would assume how long the writer took to come up with the complete 48-minute piece.
This, according to this platform, must be encouraged so that we can give more publicity about our country, continent and great men and women of Africa who helped determine the direction of the continent.
Coming to the specifics of the documentary production edited by Kambani Phiri with a montage by ZNBC staffer Munyemesha Munyemesha, the sound recorded out of the interview in Dr Kaunda's house did not come out that good.
Dr Kaunda's and the interviewer's voices were somewhat hollow but that flaw was overshadowed by the interesting old pictures, well researched script and clear narration.
It was also interesting to learn from the documentary that late President Michael Sata's father was actually Dr Kaunda's Shibukombe (marriage go-between) during Kaunda'scourtship to his late wife Betty.
Other interesting facts that would be of interest to the current generation is how a colour blind new white district commissioner who had just arrived in the country witnessed a youthful nationalist being racially abused predicted that the young man would rule Zambia.
There is also information on how the name Zambia was coined after several suggestions like Zambezi and Zambezia.
++++
Now last Sunday I found myself tuned to Zambezi Magic and found a very interesting comedy piece by renowned Ugandan female comedian Ann Kansime.
The programme is called 'Don't mess with Kansime' containing short comical series that would leave you smiling.
This is an East African country production yet again overshadowing the owners of the channel 'the southerners.'
This brings me to an issue I raised about two years ago on Zambian comedy which in most cases has to be told in vernacular for one to get the joke.
For example, Mwine Munshi that was screened on Muvi TV, and was a very well-followed and loved production done in native Bemba language.
The main ingredient in the Mwine Munshi production is the Bemba factor which can only be restricted to the Zambian audience whose sensibilities it addressed.
I don't know if Zambezi Magic can bring the Zambian comedy series like Mwine Mushi with English subtitles.
Other renewed comedians like Bob Chomba Nkosha admit that most Zambian materials of stand-up comedy are in vernacular.
He has, however, said he and other Zambian comedians are working on comedy series that will have vernacular languages with subtitles to soon get on Zambezi Magic platform.
++++
Away from the comedy issues, this week I have been prompted to comment on a lot of poorly done adverts that are showing on most of our local television stations.
Let me talk on a Zesco advert that comes just before and after the ZNBC main News.
I might not be technologically apt but with the little knowledge I have, I don't think overusing power can make the water to quickly 'dry up' in the dam in the first place.
Secondly, why should one switch to a generator which needs costly fuel when you are connected to the national grid and paying for it?
Why should I be connected to Zesco and if they are encouraging the usage of generators even when hydro power is available according to the advert?
I think people should do a lot of thinking before coming up with advert scripts that in the end do not make sense and fail to deliver the message!
In the entire advert, what makes sense is the jogging as opposed to 'using an electronic tread mill, switching off all unwanted electronics and switching to energy saving lighting'.
The rest I ask fellow viewers to help me judge as I sign-off here.
Let's continue interacting on this platform by sending your contributions to samphiri77@gmail.com or sending text to 0962215687.