Published On March 30, 2019 » 1436 Views»
Features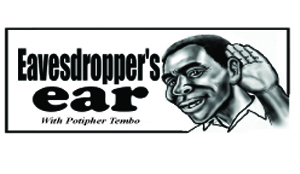 IT is pleasing to see how some parents have been supportive to their children from their childhood to the time they become adults and are able to look after themselves.
The parents ensure that they provide the necessary support including taking their children to school up to the time they complete their secondary education.
When chance allows, the parents will continue supporting their children up to college or university education.
With the problem of finding employment by many school leavers and some college and university graduates, some parents who have connections or relatives in some companies or government institutions, will still be supportive and will see to it that that they help their sons or daughters find jobs.
But while this is how it should be, it is absurd that some parents will regret having done the good things they may have done for their children all because one day they (children) would not be in a position to assist them when need arose.
A few days ago, I was at a friend's home just to visit him. It was around 11.00 hours when I got to this friend's home and because of the sweltering heat in the house, my friend suggested that we go and sit outside under an avocado tree which provided a good shade.
We were out there discussing when a man's voice next door boomed at someone that if he had known this was how stingy whoever he was shouting at would be, he would not have spent money on their education.
"Uli wa kaso sana. Ndekulombafye K150.00 ukuti njenkombwele brother obe uuli muma cells uleti taukwete impiya!," (You are very stingy. I am only asking for K150.00 to go and bail out your brother who is in police cells and you are saying you don't have money!), said the man's voice.
I could not see the person who was talking or the one he was talking to because of the height of the hedge, but I heard a female voice respond that it was not that she did not want to give him the money but it was because she did not have any money at that particular time.
The man's voice insisted that it was not true that she did not have the money.
"Teti ulande ati taukwete impiya iwe. Elyo wa folele elo ulafola ishigi sana. Uli wa kasofye," (You can't say you don't have money. You just got paid and you get a lot of money. You are just stingy), insisted the man.
"Tata ndamipela impiya nganinkwata. Shonse impiya nakwete nalilipila ku sukulu," (Father, I do give you money if I have. All the money I had I paid to school), protested the woman.
On hearing this, the man shouted at the woman I later came to learn was his daughter complaining that he had spent a lot of money on her education and he wondered why she kept telling him that she was still paying money for her education.
The man said apart from paying for his daughter's education, he helped her get a job at a named government institution because it was him who was pleading with one of the high ranking government official to get a job for her.
"I was paying for your school fees until you completed your secondary education. When you finished your secondary education, you failed to get a job and it was me who was pleading with bosses to get a job for you. I have written a list of what I was spending," shouted the man.
It was then that the woman complained bitterly and responded that it was in fact not her father who was paying for her education, but her late mother who he divorced to marry another woman.
"Teimwe mwalendipilila ku sukulu. Niba mayo. Muleishiba ukulanda ba tata,"( It was not you who was paying my school fees. It was my mother. You should know how to talk, father), complained the woman and I could hear her footfalls moving away.
Shortly, the man also walked out of the yard and I heard her grumbling.
It was after some minutes after the quarrelling had stopped when I heard the woman start complaining to another woman about the sentiments her father had made.
The woman complained that her father was always bragging that he was paying for her education when he did not.
"He always brags that he was the one who was paying for my education when it is not true. When he divorced my mother, he married another woman and my mother got a job as a maid in Kansenshi just to find money to pay for my education. Many times she would walk to work all because she wanted to save money for me. Balekongola na kaloba pakutifye bandipilile ku sukulu. Bamona kwati nshaishiba. Nshakabapelepo libili impiya(She was even borrowing money to pay back with a lot of interest to pay for my education. He thinks I don't know. I will never give him money again," explained the woman.
When she paused, I heard the woman she was telling say her father was wrong but she should just forgive him.
The woman (the man's daughter) then responded that she was even surprised that her father even had to complain that he helped her get a job.
"He is my father. What was wrong with him helping me get a job? And even if it was him who was paying for my education, was it an issue that he should always talk about it? Isn't that a parent's responsibility?" asked the woman.
She pointed out that she got very good results in grade 12 and she should have gone to college or university, but her father failed to sponsor her and instead helped her to get a job as a mere clerical officer with a named institution and she had to upgrade herself through private studies and it was for this reason that she now had a well paying job.
The other woman was now busy trying to calm the woman who sounded very upset with her father's sentiments.
A number of women who had gathered at the agitated woman's residence passed comments at her father's behavior.
I heard one of the women say the woman was good hearted and she always helped her relatives and the only reason she could not give her father the K150.00 he was asking for to go and bail out his son who was in police cells was probably because she did not have money as she said she had paid all the money she had to school.
"Elyo ne mpiya balefwaya shakuya lipilila cakollwa uwacenene umunankwe mubwalwa. Wanshi uwakulipilila?," (And the money her father was asking for was to be used to pay for his drunkard son who assaulted his friend at a drinking place. Why even pay for him?), said the woman.
Another woman said her father should have been proud that his daughter had been to school and having a good job instead of him complaining that he paid for her education and helped her to get a job since that was his responsibility.
What kind of a father that man is! I wondered.
For comments: potiphertembo2014@gmail.com. 0955929796, 0966278597.