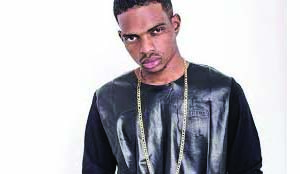 By CHUSA SICHONE –
WITH the recent headlines he made in the media behind him, rapper Bobby East still proving that the pornographic scandal he was involved in last year could not mark the end of his music career.
Bobby East has continued to appear in public the recent being at the nfully packed The Bank Café in Lusaka's Chilenje Township.Dressed in a cap, t-shirt, jeans and Nike sneakers, Bobby East (real name Robert Chunga) was encircled by patrons as he performed some of his popular songs, ending with the famous one Hate mail around mid night. Patrons sung along to his lyrics while others danced on and off the stage.
Bobby East paid tribute to late singer P-Jay.
Before the singer took to the stage, the Disc Jockey entertained the people to a variety of music.
Bobby East and Ruth Mukanga made several court appearances last year until they were fined K8,500 each for appearing in a sex video, which went viral on social media.