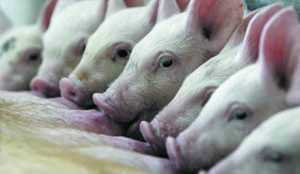 NINETY pigs have died since the outbreak of African swine fever in Kasempa District in North-Western Province a fortnight ago.
District Agricultural authorities have banned the movement and slaughter of pigs for pork products, while an operation to disinfect affected areas is underway.
This came to light during a meeting for district Government heads of department in Kasempa addressed by North-Western Province Permanent Secretary Amos Malupenga last Friday.
Giving a briefing on the department of agriculture, senior agricultural officer Joseph Masuwa said samples taken from pigs that died tested positive for Africa swine fever.
Mr Masuwa said so far, the animal disease had killed 90 pigs since the outbreak.
He said the district had received support from veterinary officers from the province who were working round-the-clock to try and contain the disease.
He disclosed that the movement of pigs had been restricted, while a budget had been sent to Lusaka for logistics required to start disinfecting areas affected by the swine fever.
Mr Malupenga commended the department of agriculture for ensuring that interventions were put in place to contain the disease and to stop further loss of pigs, which were a source of income for many families.-ZANIS.