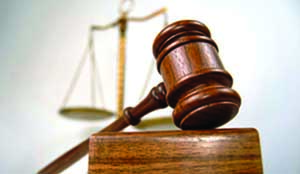 TWO Zambia Prisons Service recruits have been jailed 15 years each with hard labour for attacking a taxi driver from whom they stole a mobile phone and K180 while armed with a pistol and a knife.
In passing  Judgment, Kabwe High Court-in-Charge, Mwiinde Siavwapa said  it was  sad  that  the two who were  training as warders  had engaged  in such a serious  crime and was sending  them  to prison to reflect on their action.
Richard  Liyoka ,23, and  Monde Ndandula ,22, who were based at Mukobeko Prisons training  school on May 11, last year stole a cell phone and money belonging to  Samson Mbewe.
Mr Mbewe testified that on the material day,  he had  parked  his  Toyota  Corsa  registration number ALD 5622  near Brimas night club when he  was approached  by the two men who wanted to hire his vehicle.
He said the two explained that one was going to Chowa while the other was going to Bwacha Township.
Mr Mbewe suggested that they would start by dropping the one going to Bwacha Township.
As they were driving along Buntungwa  Road, the one who sat  in front produced  a knife and demanded money from Mr Mbewe while holding a knife against his throat.
Mr Mbewe explained that he gave the two K180 cash and also surrendered his mobile phone but they insisted that they needed more money.
Mr Mbewe said the one who was behind took over the wheel and he was made to sit between the two in front seats of the car.
When they reached in Bwacha Township, they started beating him up and that later after realising that the car was running out of fuel, the two recruits attempted to snatch a Spacio from another a driver who sped off after seeing the pistol.
In the process, Mr Mbewe managed to escape and reported the matter to the police. The two were arrested after a few days.
In mitigation through their lawyer, Tutwa  Ngulube from the F.B Nanguzgambo and Associates, Liyoka and Ndandula pleaded  for  lenience saying the time they had  spent in prison taught them a 'tough lesson'.
But in his ruling, Mr Justice  Siavwapa  regretted that  the two  engaged in aggravated  robbery  when they should have been there to protect society from criminal acts.
"You were being trained as prison officers to take care of the prisoners but you decided to engage yourselves in such a serious crime and now my hands are tied.
"I am sentencing you to 15 years imprisonment with hard labour and I hope once you finish serving you will be better people," he said.