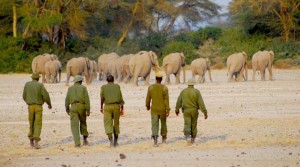 By SYLVESTER MWALE-
AUTHORITIES in Botswana are pursuing 13 Zambian poachers who escaped after a deadly exchange of gunfire with officials from that country's Department of Wildlife and National Parks (DWNP).
The 13 poachers, who are believed to have crossed back into Zambia, via Kazungula border, escaped after their friend Bornface Ndauze was shot dead by officers in Botswana's Chobe National Park.
Sources in the DWNP in Botswana and Zambia Wildlife Authority (ZAWA) spokesperson Readith Muliyunda, confirmed that the two countries were collaborating to arrest the suspected poachers.
"We have been working in collaboration to bring to book those who are on the run, and every effort is being made to find these poachers," Ms Muliyunda said in an interview.
"You may be aware that we have been collaborating under Kaza (Kavango-Zambezi Transfrontier Conservation Area) where we share information on poaching with other countries."
The areas that form KAZA are the Caprivi Strip of Namibia, south-eastern corner of Angola, south-western Zambia, the northern wild-lands of Botswana and western Zimbabwe.
The centre of this area is at the confluence of the Chobe and Zambezi rivers where the borders of Botswana, Namibia, Zambia and Zimbabwe meet.
Ms Muliyunda said the collaboration, which also involved other countries in the region, was aimed at addressing the challenges in the conservation of wildlife by harmonising law-enforcement in curbing poaching.
Poacher Ndauze, 41, of  Lusaka's John Laing Township is believed to have entered the second largest national park in Botswana on a poaching spree with 13 other Zambians.
However, the group was confronted by Botswana wildlife officers who managed to kill Ndauze while his colleagues escaped.
After the exchange of gunfire, DWNP officers recovered 10 x 375 live ammunition, 34 ivory tusks, four axes, four elephant tails, 12 bags of assorted game meat and a digital weighing scale.
Apart from the 13, Botswana has issued a red notice with Interpol for at least four other Zambians, who were charged with illegal trade of ivory in that country.
According to Interpol, Sandra Simasiku, 22, and 31-year-old Ben Simasiku as well as Yvonne Minganja, 26, are wanted by the judicial authorities in Botswana following their disappearance after they were found in possession of elephant tusks.
The other suspect is Mary Mwendalubi, 35, who was also found in unlawful possession of government trophy.