Published On December 6, 2014 » 2182 Views»
Features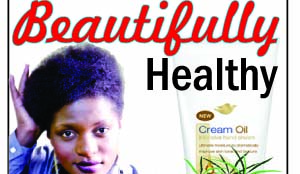 THIS week, I was listening in to an interesting radio programme where someone asked about the right age when one should relax their daughter's hair.
The presenter rightly said there was no right time.
Then I read a story on actress Halle Berry suing her ex for relaxing their daughters hair.
After rolling my eyes at the question by the listener, getting really upset at the audacity of Halles ex, nodding at the wisdom of the presenter and generally going down memory lane to my hair woes as a child, I thought I ought to write this piece today.
Any Zambian woman has a tale of sitting on a stool or ground as mothers combed their hair (with those hot metal combs), being smacked with the same comb if you twitched too much.
Then there was hair relaxer, chemicals added to 'kinky' hair to make it silky straight so that mothers, caregivers or house helpers could easily tie it into a little 'puff' with bright coloured ribbons or let it down as a mark of glory.
Every Saturday (or Sunday) the girls would go to the salon for some steaming, or hair blowing (the agony), or they would have their hair put in rollers and set in the dryer (another agony).
Remember the hairstyles that were trending then, CNN (whose name until now I can never understand.)
Thank goodness, I am past that stage right now as am sure many women will agree with me.
Fast forward to the present, many women are opting to be natural haired for a variety of reasons, firstly to embrace their hair in its natural unaltered state because that is how they were born.
The other reason and most important is that the women are learning of the many dangers of relaxing natural hair with all those chemicals.
I have natural hair and no I am not a hair Nazi, if you want to slather harmful chemicals knowingly on thy head then by all means that is your burden, however, draw the line on exposing an unwitting child to dangerous chemicals.
Just because a relaxers label says 'no lye' does not mean it is safe, whether it is formulated for adults or children, you are still dealing with a whole lot of toxic stuff which will harm your child's hair and life.
According to a research paper on toxins in cosmetics by Stefanie Skyes-Allen, Asako Suzuki and Neha Shah;
"Possible health effects of relaxers and activators are scalp irritation, skin burns, permanent scarring, deep ulcerations, skin drying and cracking, dermatitis, irreversible baldness, eye damage including blindness and weak, dry, broken and damaged hair.
Relaxers, whether with or without lye, have a very high pH (very near the top of the scale). In other words, they are caustic. Relaxers break the hair down.
Relaxers work because they break the bonds that actually give strength to the hair. This causes the hair to straighten. Therefore, relaxed hair is, by definition, weaker than natural hair. Relaxers also deplete the hair of sebum (the oil your scalp secretes).
Combine that with heat and you can really end up with a problem. Hair that has been straightened will be weaker than if it were natural and will be more prone to problems"
Lye is sodium hydroxide which is made of a chemical reaction between soda, lime, calcium hydroxide, and sodium carbonate.
It is caustic and dissolves substances such as metal, plastic and especially skin.
No lye relaxers might sound safe but the ratio of safety is only slightly less, yes they do not contain sodium hydroxide but they contain guanidine hydroxide mixed from calcium hydroxide and guanidine carbonate.
Your child's scalp is still very fragile, so imagine what slathering on those chemicals will do to her hair.
You should leave the decision up to them to make when they grow up.
Second to encourage a child to hate her own natural hair or skin texture is the worst crime a parent can commit.
Learn to look after your child's hair in its natural state, teach them that there is nothing ugly about natural, kinky, curly nappy hair and they will grow up proud of who they are.
Thirdly, there are so many diseases that are highly prevalent in women chiefly due to all the chemicals we slather on, let's end the cycle.
I could go on and on but let me end here, read more on my blog divadiarys.blogspot.com, email me divadiarys@gmail.com and follow me on twitter @Arushapot, like my facebook page Nancy Handabile.
Stay beautifully healthy this week.