Published On December 22, 2014 » 4630 Views»
Features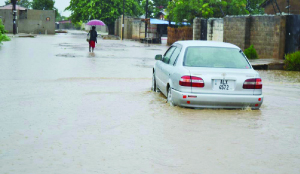 By JOWIT SALUSEKI –
IT is rainy season again and areas which are prone to the perennial flooding are again submerging in water, thereby causing a health risk to many residents.
It is during this period that waterborne diseases such as cholera, dysentery, typhoid and diarrhoea area so rampant every time the crowd opens up.
Zambia's sprawling Townships such as Chawama, Kanyama and Misisi are among some good examples of highly populated residential areas that are accustomed with flooding, as houses submerge in pools of water mainly due to poor drainage systems.
Recently, some major roads in Lusaka and some townships such as Chawama were flooded with heavy rains because of the poor drainage system in the city.
Politicians, residents and other stakeholders have seemingly not learnt any lessons from the floods that have annually been engulfing the country vis- a vis the capital city of Lusaka.
Some of these floods would have been avoided if only stakeholders had taken strategic measures to avert the floods.
From the mountains of garbage in most residential areas begging to be disposed off, coupled with modern lives in forms of items such as diapers which are disposed off with no regard to the cost to the
environment, the risks of floods are henceforth increased in communities.
Worsening the unfortunate scenario of annual flooding is the tendency by some politicians especially who allocate land without approval or advice from experts thus encouraging encroachment on vital lines such as drainage.
On the other hand, residents also shoulder the blame for indiscriminately throwing of garbage and poor construction of buildings which end up blocking the drainage systems.
Lack of monitoring or supervision by the council to ensure that developers do not encroach on drainage lines is another factor that has contributed to flooding to become annual phenomenon.
Haphazard or slap dash building has made it difficult for the council to construct storm drains so that, during a heavy down pour, water could flow smoothly unlike collecting in the townships.
This is the water if harvested could cushion the erratic supply of water during the dry spell, as most of the boreholes in Lusaka have started drying due to lack of ground water.
Chawama Ward councillor and Lusaka Deputy Mayor Potipher Tembo says Chawama residents with structures built on the road reserve should be willing to suffer collateral damage to allow for the construction of the drainage systems to avoid continuous flooding in the area.
But the question is where the council was, when people were putting up foundations unlike waiting to demolish when the building has been completed.
Mr Tembo says it was unfortunate that some shops and houses were flooded following a heavy downpour experienced in Lusaka recently.
"Every new road was suppose to go with a drainage system, but the people of Chawama chose the roads but did not want to suffer collateral damage to allow for the drainages'', says Mr Tembo.
He said most of the affected shop owners along the road reserve refused to demolish their structures to pave way for the construction of drainage systems in the area which gave the council no option but to omit the plans.
"We all have the ward funds which we can use to work on the blocked drainages, but we can also apply from the central Government for any additional funding for more construction works'', he adds.
According to the Disaster Management and Mitigation Unit (DMMU) National Coordinator Patrick Kangwa , Lusaka residents are worst when it comes to indiscriminate disposal of waste which ends up blocking the drainage systems.
Mr Kangwa says DMMU has mapped out the affected areas that are prone to flooding in Lusaka and will ensure that the drainages are worked on permanently so that the issue of perennial flooding becomes 'a thing of the past'.
Lusaka City Council Public Relations Manager Habeenzu Mulunda says 50 casual workers are going to be engaged by the local authority to unblock drainages in the capital city.
Local Government and Housing Minister Emmanuel Chenda says works to improve the drainage system in Lusaka are in progress and will gobble up US $355 million over a period of five years.
Mr Chenda says the US Government through the Millennium Challenge Corporation(MCC) gave Zambia US$ 355 million for a project aimed at improving water supply , sanitation and drainages in Lusaka over a period of five years effective from November, 2013.
'' Drainage construction and expansion works in some sections of the city had since commenced and this would lead to greater control of flash floods in Lusaka'', assures Mr Chenda.
He notes that equally under the Lusaka (L400) road project the Government allocated funds towards the improvement of the drainage system in Lusaka and this would be done simultaneously with road paving.
Whilst the Government is contemplating measures to avert floods, residents should also bear in mind that blocking of the drainage not only causes unnecessary flooding but also poses a risk of water-borne
diseases such as cholera and other diarrhoeal diseases as well as creating a conducive breeding ground for mosquitoes through ponds of stagnant water.
The law is also suppose to be revised or changed in the way shops and supermarkets packages their merchandise from plastic carrier bags to paper bags that can easily be destroyed after use.
Plastic bags are non-biodegradable materials, meaning plastics do not decompose for years.
Zambians should at least take a leaf from the African country of Rwanda which proposed a nationwide ban on single-use disposable bags in 2005.
The plastic bag ban in Rwanda was passed and made effective into law in 2008.
Once the ban was passed, locals were encouraged to use the monthly communal work session known locally as Umuganda (Rubbish pit) to collect all the plastic bags lying around or buried.
Rwanda now takes its ban seriously such that even travelers to the country are warned that they will be fined for using the plastic bags within the country.
Luggage are searched at every point of entry including at airports and even at check points throughout the country , there is strict search to make sure that one is not carrying plastic bags.
According to the British Broadcasting Corporation (BBC), some supermarkets were reportedly closed down for flouting the ban.
In 2008, the capital city of Rwanda, Kigali, got the Un Habitat Scroll of Honour Award for many innovations in building a model, a modern city symbolised by many things including a zero tolerance for
plastics, improved garbage collection , streets and pavements were beautified and improvements to sewerage system and slum upgrading.
It is hoped that stakeholders will for once find permanent solutions to the perennial floods that continues to affect Lusaka city and other towns as the floods are a drain to the economy and also a health hazard to the citizens.
Relevant bodies such as the Zambia Environment Management Authority (ZEMA) Should also ensure that institutions and individuals who fraught the law on solid waste management disposal are severely punished to mitigate unnecessary floods.