Published On March 28, 2015 » 3609 Views»
Features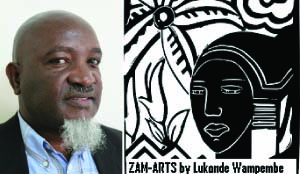 The column will be looking at art in Zambia and offer criticism that would improve the arts to high standards.
We would allow comments from our readers to stimulate debate and feedback.
While a few Zambian art works in all disciplines can be termed as meeting international standards, the bulk of what Zambian artists have produced since we got independence is second-rate material.
This week I will confine myself to literary and performing arts were the country has fared poorly.
I find this the opportune time to judge this genre considering that Zambia has been independent for 50 years which is half a century to produce works that can compete favourably with other professional works produced elsewhere.
I am hereby announcing the bad news that Zambia is shamefully entering the other half of the century without producing a Ngugi or Achebe.
Since independence much has been written about Zambia's general literary barrenness with several reasons given as to why the country has not produced a writer of note.
The lean choir of internationally-published writers such as the late Dominic Mulaisho, Monde Sifuniso, Norah Mumba and Julius Chongo cannot solidly be termed as international writers in the league of most West African writers.
Recently, writers like Ellen Aaku Banda and Namwali Serpell have gained international attention but are yet to be comfortably termed as literary flag bearers.
Their output is insufficient to represent the country as 'Zambian writers' worth studying.
If we are to use a literary yardstick of works that would make an indelible  mark on the international literary market to  stand the test of time for literary aesthetics, the  other writers cited despite being published internationally do not warrant something to write home about.
Understandably so, Patchworks by Banda won a prize while Namwali's Muzungu was shortlisted for the Caine prize but that does not generally qualify Zambia as a literary nation in the mould of Nigeria, South Africa, Zimbabwe or Malawi which are solidly established as literary nations.
Good academic learning is a basis for a vibrant literary culture something that has been missing in Zambia.
The non-existence of a solid academic base has been partially to blame for the literary barreness in Zambia considering that the University of Zambia was just a few years old when works from New Writing From Zambia (an early attempt to produce literary works) were published.
As early as 1972 the late editor David Simpson dedicated an entire editorial in one of the New Writing From Zambia issues to speculating about why Zambian literature is not all it should be. Simpson wrote: 'why is it that every time we seem to be on the edge of a breakthrough in our literary development the situation slips back to mediocre normality?'
Realising that at the time when Zambian literature was struggling to take root, Nigeria already had a vibrant literary foundation, Simpson cited Nigerian poets Wole Soyinka and Christopher Okigbo as examples.
Simpson's acute observation was written when the magazine had been going for eight years and its pages were filled with poetry by Patu Simoko (who was then going by the name of Patu Simoko Mumba), short stories and criticisms all falling below what should be termed as good literature.
Another prominent cultural practitioner Masautso Phiri who in 1979 published an article entitled 'A General Survey of Creative Writing in Zambia' in a local academic journal lamented the pathetic state of Zambian literature.
Phiri was an eminent writer and theatre practitioner in the 1970s associated with a literary and cultural group called
The Mphala Creative Society founded by a group of University of Zambia students published a journal called The Jewel of Africa which set out to promote indigenous cultural values.
Among prominent writers was Professor Dickison Mwansa who developed his writerly skills to greater heights and has continued writing producing plays that have been hailed internationally.
Like Simpson, Phiri starts his overview of Zambian writing by bemoaning the 'non-emergence [in Zambia]' of a Chinua Achebe or a Ngugi wa Thiong'o.': Foreign critic of Zambia's literature like the South African Michael Chapman were equally disappointed. Commenting on Zambian literature, Chapman wrote in 1996, in a book entitled History of Southern African Literatures in which he described literary works from Zambia as 'unpretentious', as well as 'journalistic (and) city-wise'.
The South African critic observed that many Zambian writers were interested in the theme of the contrast between the city and the countryside – that is to say, the difference between rural 'tradition' and urban 'modernity' dismissing their works as parochial.
One needs to read the works published by the state-sponsored publishing house, Neczam which published early writers such as Patu Simoko, Gideon Phiri and several others Zambian writers who wrote second-rate works.
With the coming of internet that has made it easier for self-publishing, Zambian writers like their counterparts in the 70's have continued writing comfortable to function in isolation to other world literatures especially English literature.
After lamentably failing the international literary yardstick, Zambia is in such a dire state regionally by having its own literature divorced from other universal measures that determine good literature.
This has meant its writer are influenced by local (that is to say, regional) kinds of literary writing which could help to bring about the political and artistic liberation of the entire region – and which were not globally sanctioned by the kind of literariness brought into being by the African Writer Series.
While agreeing that Zambia has produced good writers in prose, drama and poetry (some who have been published internationally) it is largely a literary desert that it was at independence.