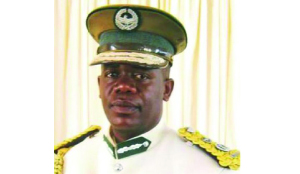 By SYLVIA MWEETWA –
IN THE last three years, the Zambia Prisons Service has proved to be a force to reckon with as a result of the massive developmental projects it has been undertaking which have earned it respect and trust from the Government.
The role of the Zambian Prisons Service is to efficiently provide and maintain human custodial and correctional services to inmates and to increase industrial and agricultural production in order to contribute to the well-being and reform of inmates and to maintain internal security.
True to its mission, the prison service has proved that it can be trusted to implement various projects as evidenced by the recent procurement of 13 tractors at a cost of over five million Kwacha  aimed  at  boosting its agricultural activities.
According to Commissioner of prisons Percy Chato, the Prisons Service has also purchased three excavators at a cost of K3.4 million.
Mr Chato said the Prisons Service is committed to sustaining itself through agricultural activities and paid tribute to the Government for the financial assistance which has helped it realise its vision.
He explained that the acquisition of tractors and planting equipment, will help the prisons service to produce more food.
"While providing quality correctional services, the service has a duty to help increase industrial and agricultural production in the country and as a service, we have committed ourselves to ensuring that the projects we have embarked on are implemented," he said.
He said it was important for the Prisons Service to increase its agricultural activities to allow it feed not only prisoners but the nation as whole.
"I can confirm that we have purchased 13 tractors for our farms which will in enhance our agricultural production and we want to thank the Government for the financial support which has made this possible," he said.
He said that with the purchase of the equipment the prisons service was likely to double its maize production.
The prisons service has also embarked on works to clear land which will be used for farming in Kitumba in Mumbwa where 4,000 hectares are earmarked for opening next year.
Apart from the tractors, the prisons service has also purchased sprayers, planting machines and excavators.
Meanwhile, the Ministry of Agriculture and Livestock has approved a US$4.6 million grant to enable the Zambia Prisons Service carry out the installation of centre pivots in four prison farms within the country.
The farms to benefit from the project include, Nansanga in Serenje, Musakamba in Mkushi, Chitwe in Luanshya and Lubambala in Mpika.
"I want to state that the Ministry of Agriculture has approved a grant that will be used to install centre pivots in four farms , " Mr Chato said.
Home Affairs Minister, Davis Mwila who visited Mukobeko Maximum Prison, and the Prisons Service headquarters said the construction of the first ever multi-purpose hall in Kabwe at a cost of over K3 million Kwacha would assist the service to save money spent on hiring halls to hold meetings.
Mr Mwila further commended Lima Agro Contractor, the company engaged to construct the facility for doing a good job.
"I want to commend the command for coming up with the idea of setting up a multipurpose hall because once this is completed it will allow the service to save money which normally is spent to hire halls," he said.
And Mr Mwila said he was impressed with the quality of works by the contractor and urged other local contractors to emulate such commitment if they wanted to be awarded contracts.
He said Government was in a hurry to develop the country through constructing infrastructure that is key to the nation's development.
Mr Mwila said Kalonga Milling Plant in Kabwe which is also run by the Prisons Service, was operating at full capacity producing 2,780 breakfast and roller meal bags per day.
Plans to construct a milling plant in Petauke have reached an advanced stage and that once completed, the plant would be able to produce 200 tons of mealie meal per day.
Realising that a motivated workforce is able to contribute more to the development of the country, Government is constructing houses for prison officers.
Apart from various projects which are underway, the prison service has continued to offer training to incarcerated prisoners a move which has seen 2,641 prisoners  countrywide being equipped with various skills in in carpentry and joinery, brick laying, tailoring and designing, metal fabrication and plumbing among others.
The prisons service needs to be commended for implementing such projects which are helping to boost the country's economy.