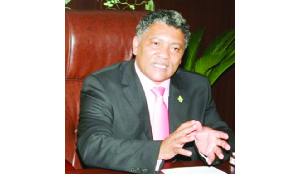 By JUDITH NAMUTOWE –
THE government says there is no longer any need for the local employers to bring in expatriate workers to take up job opportunities
for which Zambian graduates are qualified to take except in rare circumstances.
Agriculture Minister Given Lubinda said with the rising number of local universities churning out quality graduates there was no longer any need for the industry to look for labour from outside the country.
Mr Lubinda said this during the official opening of Cavendish University Zambia (CUZ) new campus along Washama Road in Lusaka's industrial area yesterday.
"I would like to take this opportunity and state that there is no more need for the  industry to look for labour  from outside Zambia except in rare circumstances and we must be convinced as government that such talent is not currently available  on the Zambian market.
"Otherwise we will not tolerate anyone taking up jobs that can be done by our well-trained Zambians, "Mr Lubinda said.
He said this was the more reason that the Ministry of Home Affairs was careful in granting work permits to non-Zambians.
He encouraged human resource professionals in the country to support efforts of these universities by ensuring that you create
internship as well as employment opportunities for the young Zambians.
Mr Lubinda said allowing investment into the education sector was not just good for Zambia alone, but that there was a strong and growing demand for high quality educational services across the African continent.
Mr Lubinga challenged institutions of higher learning to grow their capacities to the level that they would start attracting international students.
He said the launch of a new campus was testimony to the investment confidence that currently exist in the Zambian economy.
The University, which was founded in 2005, was recently acquired by Maarifa Edu Holdings, an international education company that currently has investments in universities in three African countries.
Maarifa chief executive officer Scott Royster said Marrifa has invested millions of dollars that has been used for infrastructure development, adding that there would be a future commitment of more funding.
"The actual amount would be determined over  the course of several years, depending on how quickly the university grows," he said.