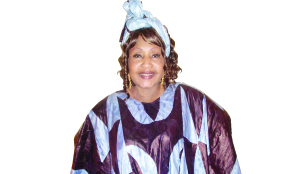 By SAM PHIRI –
ONE of Africa's female Rhumba legends known as the Queen of Congolese Rhumba M'bilia Bel, has announced her coming to Zambia at Chaz Ntemba VIP lounge Kabulonga this monthend.
M'bilia Bel, who was last in Zambia in 2011, is making a major return to the country for what she has described as the retirement celebration trail across Africa.
She tells Chez Ntemba Entertainment that Zambia is one of the countries that is so dear to her heart and has greatly contributed to her stardom.
"I will be performing in Zambia maybe for the last time in my singing career and all I can promise is to give my best so that I can to leave the career stage while fans are still clapping," she says.
And Chez Ntemba management has organised a VIP dinner show in honour of the coming Rhumba Queen.
CEO 'Papa' Augustine Kayembe says the show will also be used to showcase the expansion of the VVIP services the club will be offering starting next month.
Chez Ntemba is expected to host two M'bilia Bel; the first one being the corporate dinner night.
Born in 1959 and brought up in (Zaire) the Democratic Republic of the Congo, M'bilia Bel became successful in the early 1980s when she recorded and toured with Tabu Ley Rochereau, and made her own solo albums.
The birth of her first child prompted her to take a break from performing.
After her last album with Tabu Ley in 1987, she moved to Paris and started working with guitarist Rigo Star, and between 1989 and 1990 she went on tour to the United States, the United Kingdom, and West Africa.
With a combination of beauty, an angelic soprano voice, and tremendous agility on stage, M'bilia Bel stole the hearts of music fans all over the continent.
It was during this period that she registered her presence in Zambia wowing masses with that rare combination of beauty and talent.
There was a pick time when Mbila Bel was rated as Africa's first female transcontinental diva.
She became the first female musician from Africa who could claim popularity all over the entire continent and beyond.
In fact, one could argue that there has not been any female musician from Africa who has captured the imagination of music fans across the continent as much as M'bilia Bel did in the eighties.
South African Miriam Makeba, known as Mama Afrika, popularity peaked in the 1960s but could not attract as many fans as M'bilia Bel did later.
This is the talent that is billed for Zambia and only at Chez Ntemba VIP Lounge in Kabulonga.
Who would surely miss such a free dinner show unless by choice?