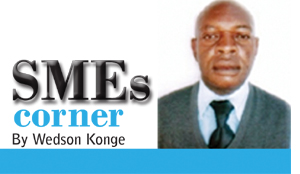 TODAY we will look at a business that does not keep business records to help it analyse whether its performance is above average or not.
As you might be aware by now that a business is supposed to keep financial records to help it know its financial performance in relationship to the way it is being managed.
This column is on record in advising especially Small and Medium Enterprises(SMEs) that record keeping in business is cardinal.
It is cardinal in running business especially when it comes to establishing business financial positions.
Business financial analysis is very important to a business in that the records are used for obtaining loans and paying taxes.
In short a business has so many interested stakeholders who would want to know the  way it fairs in a society such as the government, financial institutions and employees who would  want to know if their future is guaranteed at the workplace through good business performance.
However, today in our business chat I want us to move away from this business tradition of record keeping and look at how a business with little record keeping can know whether it is doing fine or not.
We look at a trading business that holds stock for resale to generate profits for its business.
In this country more than 50 per cent of businesses are trading businesses meaning that it is buying and selling of stocks.
As such accounting for stock is the major record keeping in these businesses.
However, simple researches have shown that most of the small businesses do not conduct stock taking to account for stocks sold or the remaining stocks, instead they depend on imagination to know whether the business is doing fine or not.
It is this imagination that this column want to look at today.
Business is like a person and can die because of "suffocation".
If not properly managed the business can die in the fashion of being suffocated.
When stocks in a business are being brought in, it is important to know the profit margin of the items because this will help to know the profits held in stocks at hand.
In the event of all the stocks being sold, the profit realised will be known by the business and it will be easy to replace the stocks.
But in a situation where stocks are sold and the expected cash inflow is not there just know that there is something wrong.
A trading business which is doing fine will have the following indicators
–       Steady cash inflow
–       High rate of stock turn over
–       Steady increase in stocks
–       Paying salaries on time
–       Paying of debts on time
The above indicators will show that the business is doing fine, more especially where the business does not keep business records to account for all these things.
However, if a business is not doing fine or is being mismanaged signs are:
–       Slow movement of stocks
–       Cash flow problems
–       Stocks being stagnant
–       Not paying debts on time
–       Delayed salaries
The danger of not record keeping such as regular stock taking is that you may not know that some dishonest staff are taking away stocks from a business.
Equally, business mismanagement on the part of business owners may not be reviewed in the absence of business records.
The other danger that I have witnessed is the issue of not paying much attention to the profit margins of items sold.
Items that attract small profit margins need to be sold frequently to record meaningful profits but where this does not happen it is difficult to grow the business.
For comments contact 0975028616, or e-mail: wklpunlications699@gmail.com.